Blogger's Bloom Day...
and I arrived at the party on time! Yeeehaaah! I will edit in text later, cuz' right now I gotta run....enjoy the pics! Okay, I'm back......first we have
boneset
, and as you can see, the bees love it! There's even a bee flying in to the left of the flower.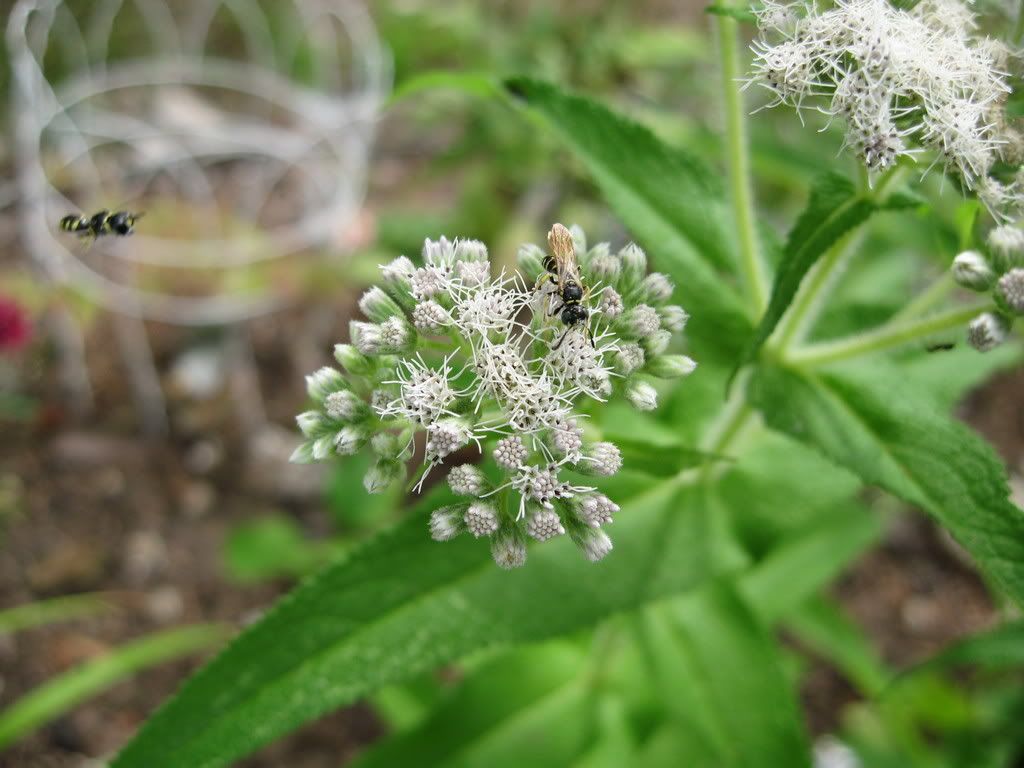 This was a volunteer last year, and it has established itself very well. It has various
medicinal properties
, I just like the symmetry of the leaves.
Some lingering daylilies, this is "Hall's Pink"....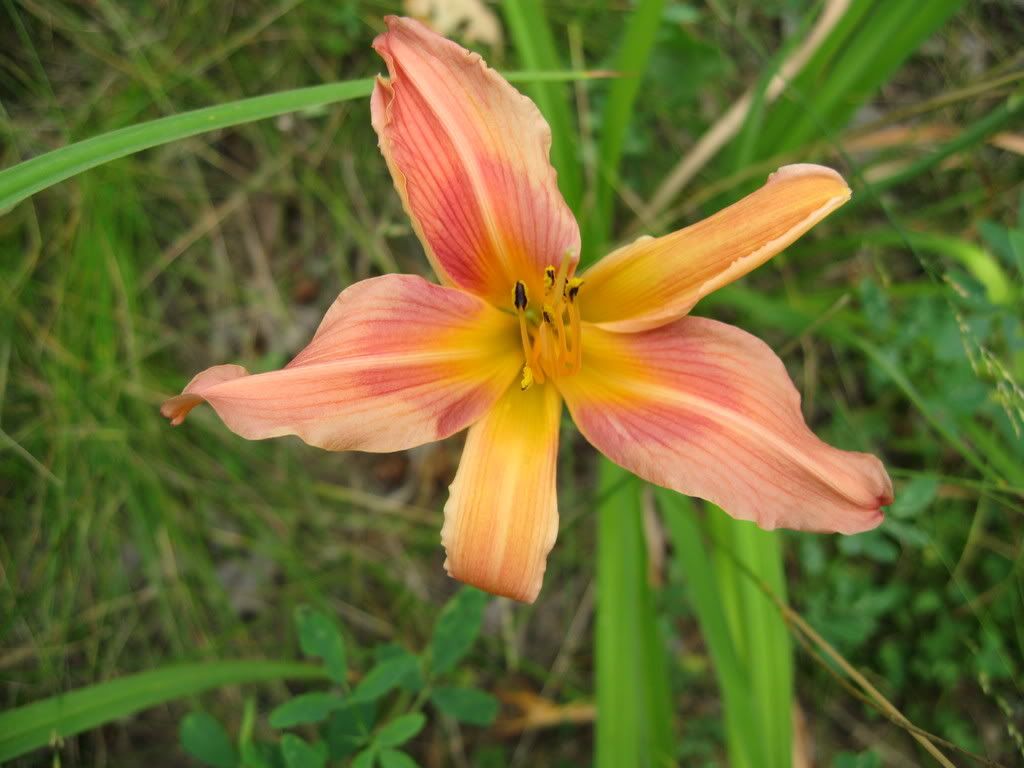 ....my new annual planter is coming along great, mostly because I water it constantly. The morning glory is doing a fine job covering the trellis and the ugly stuff behind it...sure hope it re-seeds next year!
Another daylily, "Lilting Belle". She just got transplanted a few weeks ago, yet still blooming like a rock star!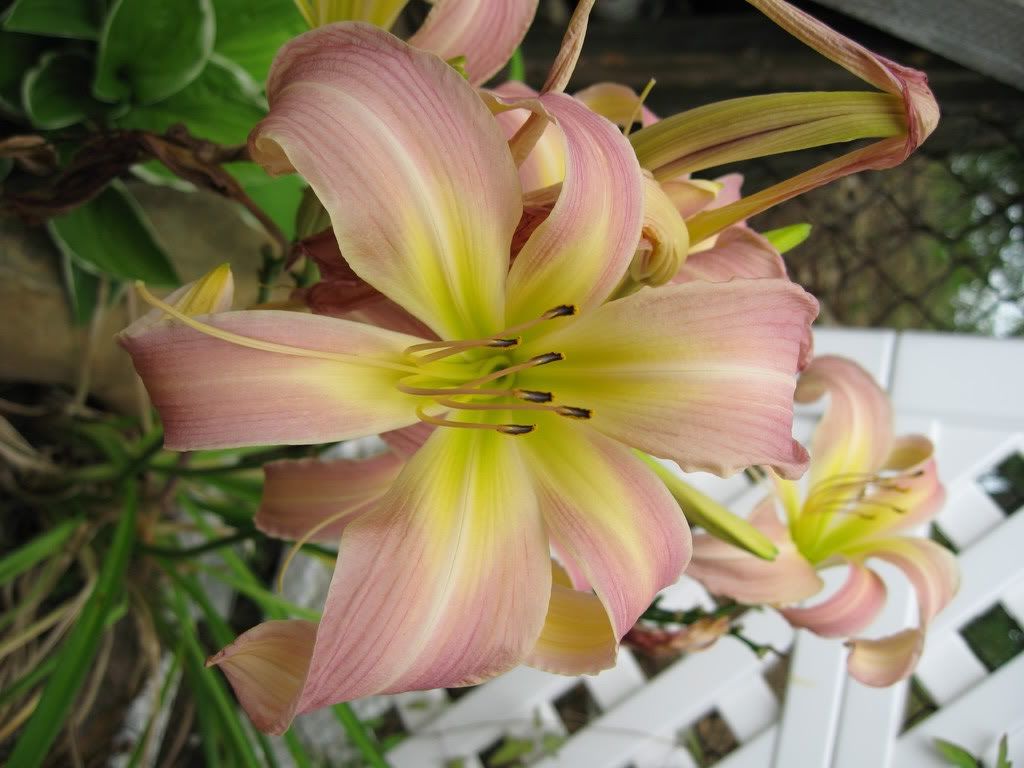 I mean, how can she produce such awesome blooms with such poor-looking foliage? Way to focus energy!
Sedum "Purple Emperor", one of my favorite new buys from last year.
Common Ironweed
, blooming in the pot, waiting for a permanent home on my riverbank. It was in a regular garden spot, but it just gets too tall. Bees really love it, though.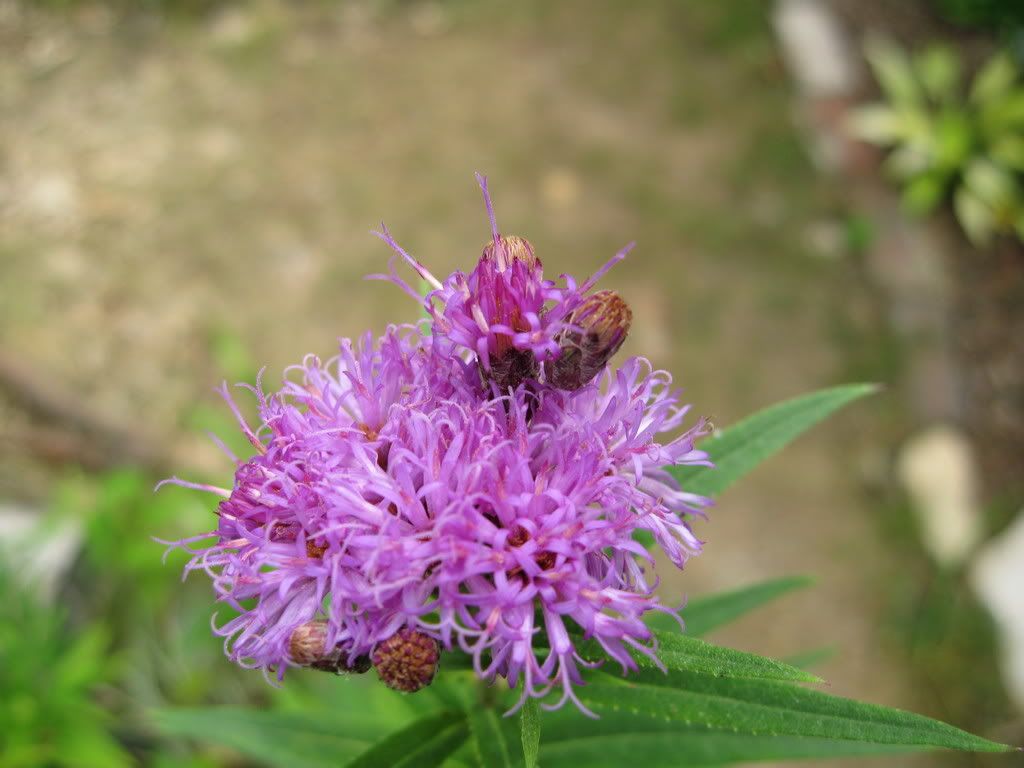 Helenium "Joker's Wild"....I feel a helenium collection coming on!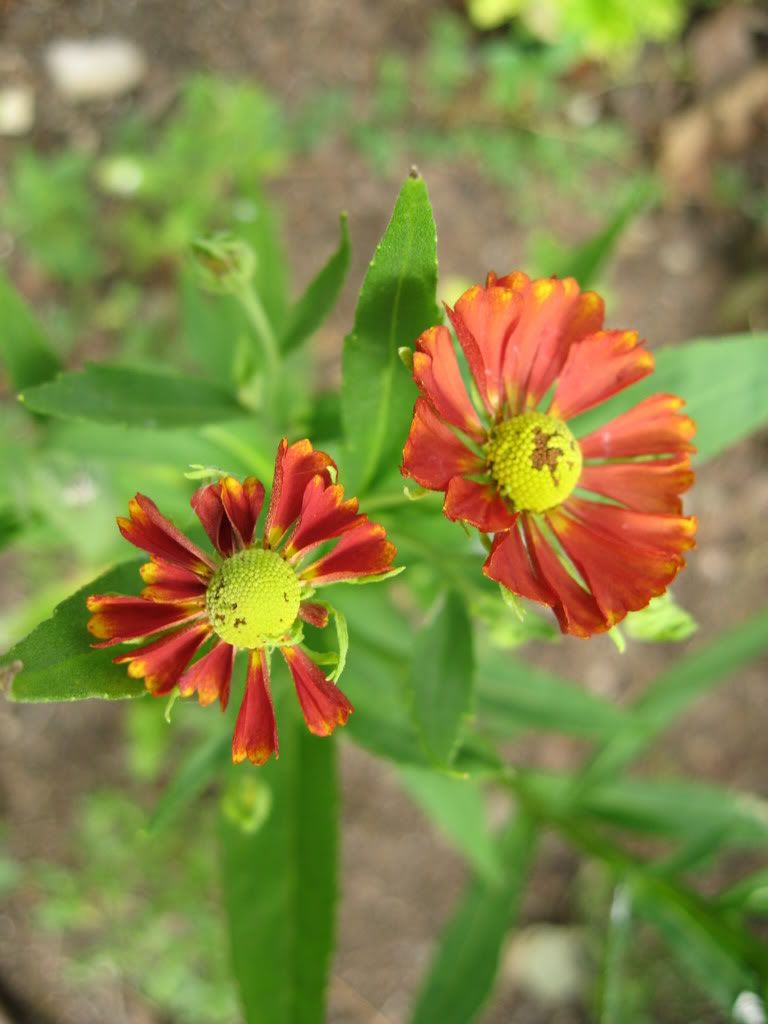 Phirst phlox to bloom....I sure wish you could smell it!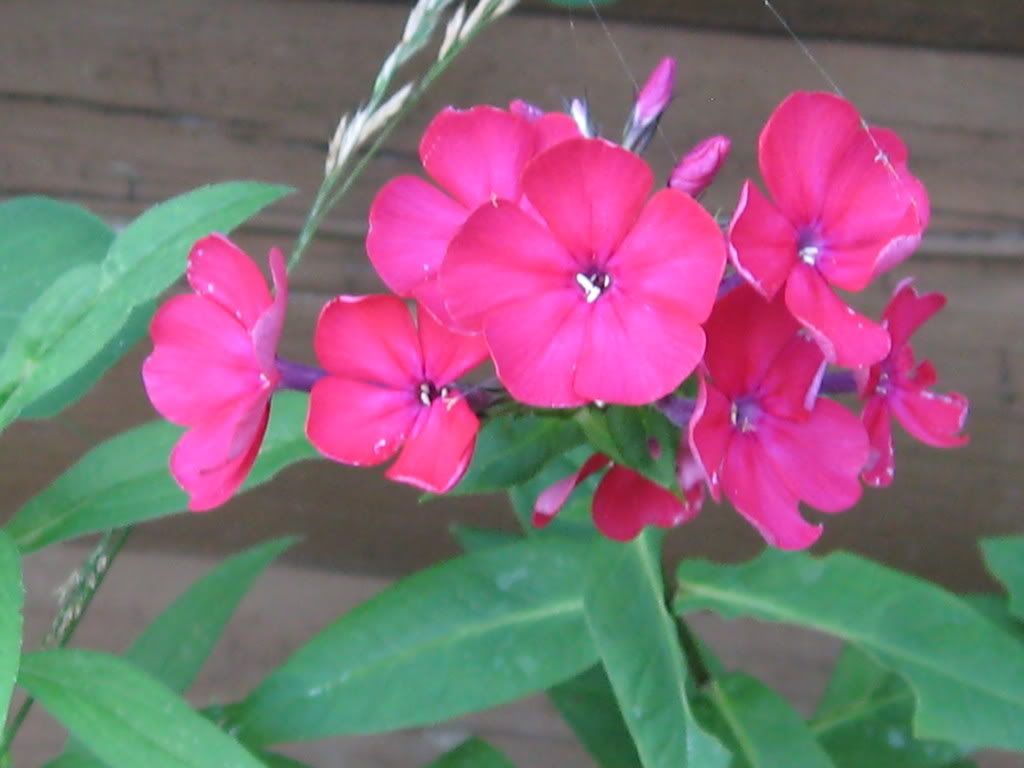 Ice plant, blooming for the
third
time, still in the tiny grow cells from the nursery, waiting for a real home!
Okay, is this Sweet Autumn Clematis, or Virgin's Bower? Whatever it is, I like it!
Big
woodland sunflower
, another volunteer I really appreciate.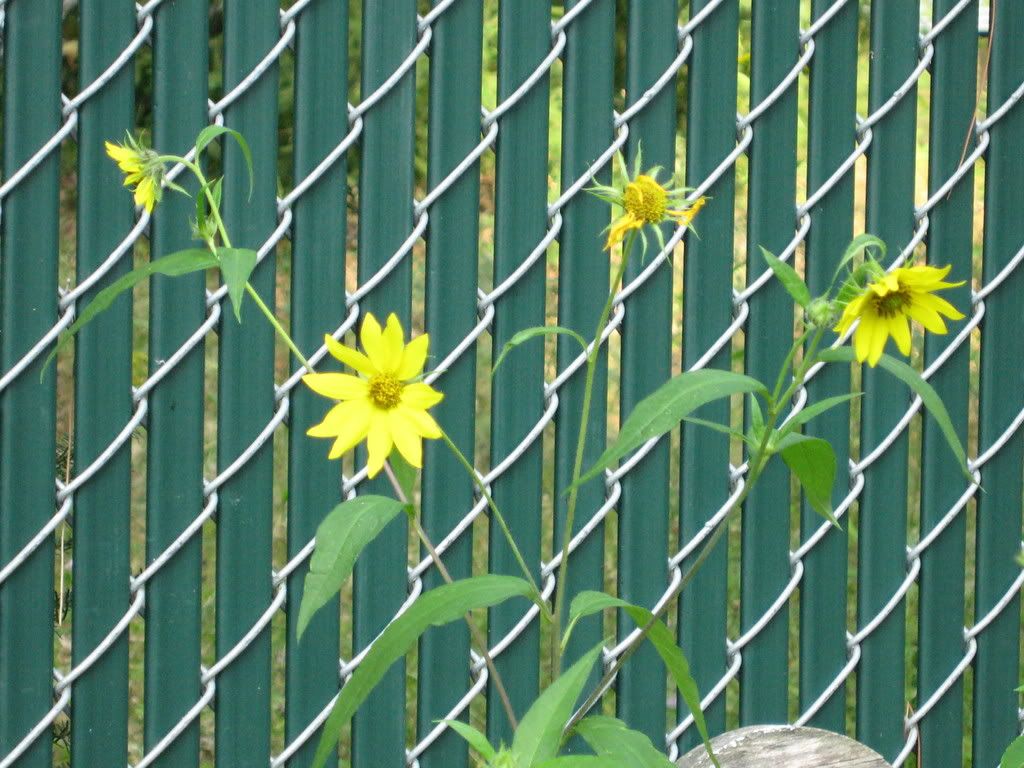 Purple liatris, another purchase from just this spring...
Fantasy Monarda
, blooming very nicely, just like last year. I really like the funky look and colors of these blooms.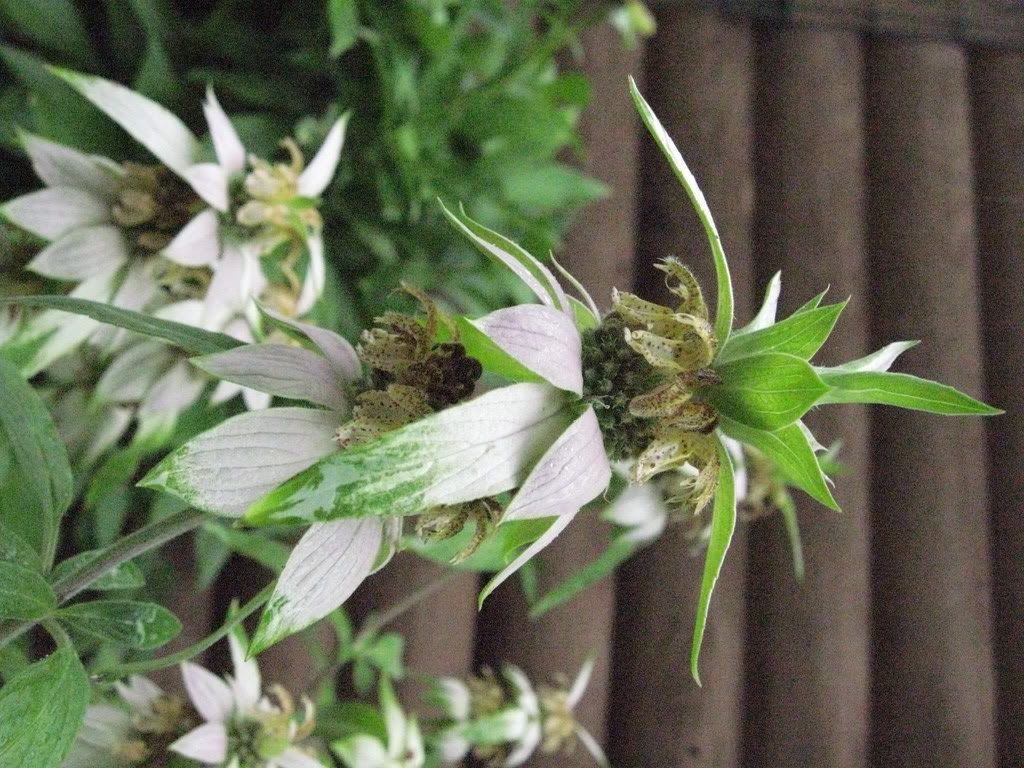 Another daylily favorite, "Chamonix"....
...and wave petunias that even look nice in the dark!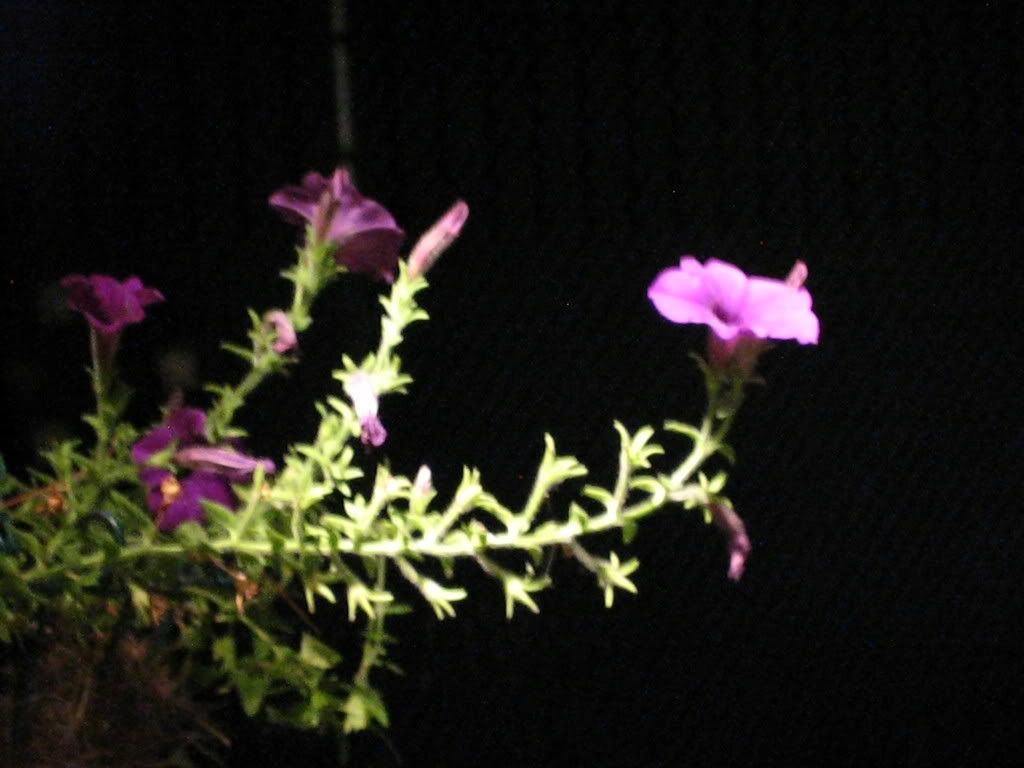 Here we have
purple prairie clover
, struggling a bit due to the lean sand it's in, along with several seasons of relentless browse from deer and bunnies. It keeps trying though, and I can really apprecite that!
White liatris, again just purchased this spring, and blooming in a pot whilst awaiting a home.
Sedum "Blackjack", also just bought this year and growing like crazy! Got some green in the back, reversion I guess...should I cut it off?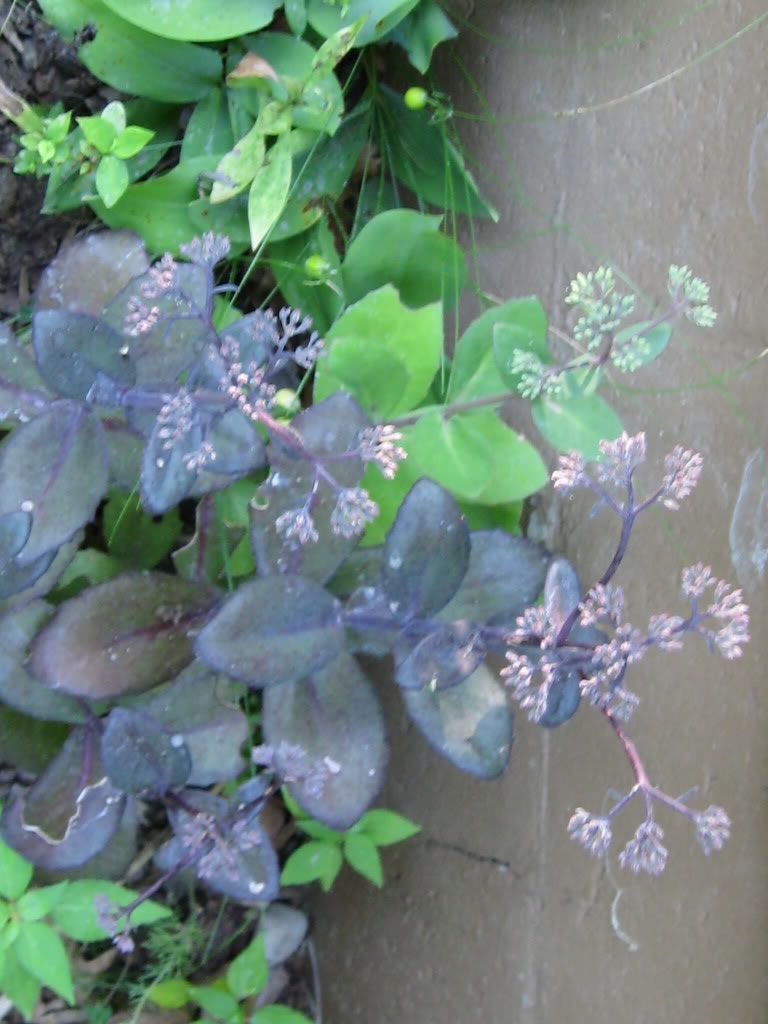 This is sedum "Matrona"......one of my favorites....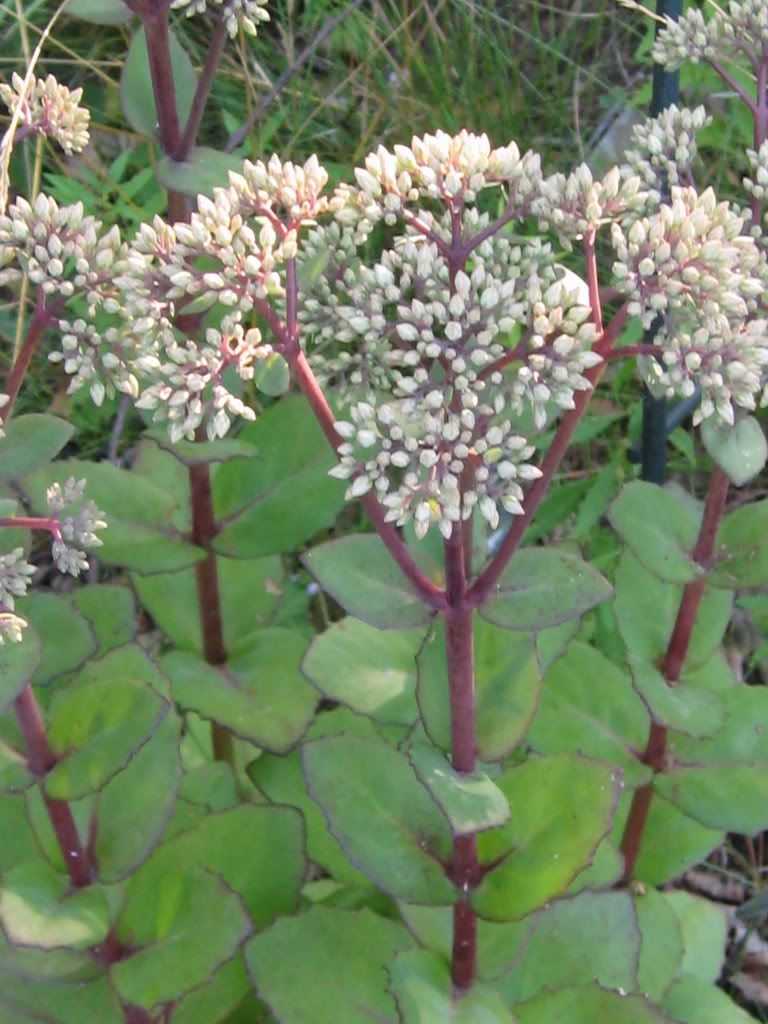 .....and a new coneflower from this year. I just cannot get over how well some of these new acquisitions are performing, especially in this drought! (I'm sure my non-stop "hose wrangling" has something to do with it!)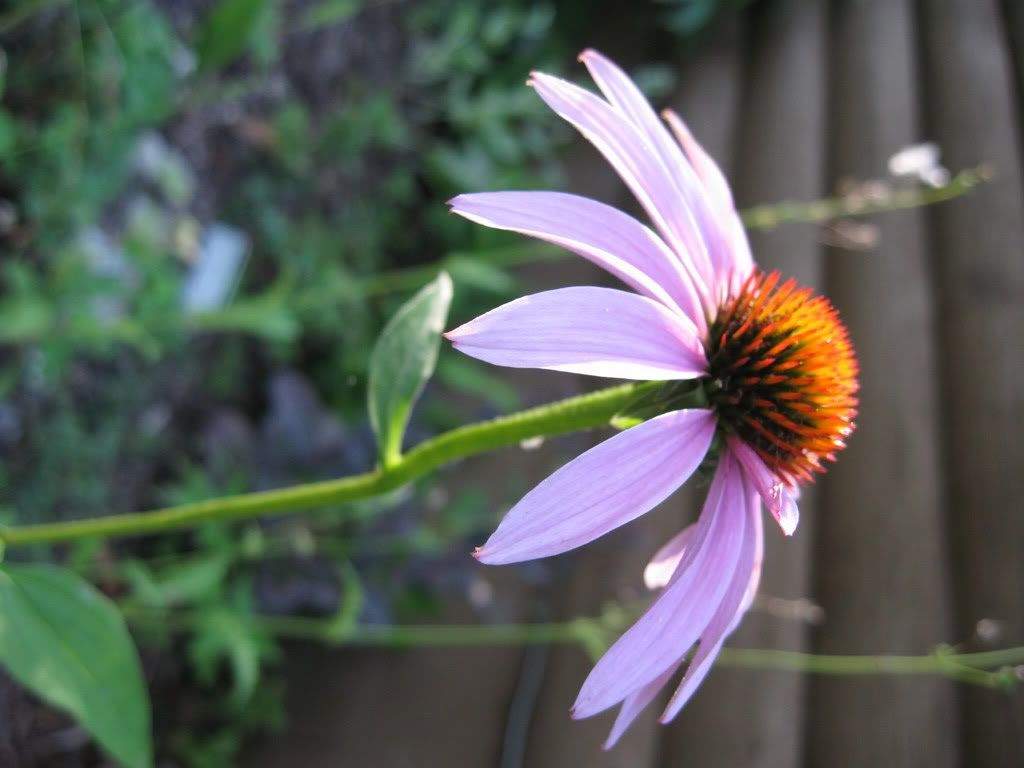 Sedum
"Morchen"
, a passalong from my mom. It's kinda scrawny compared to hers, but alive at least!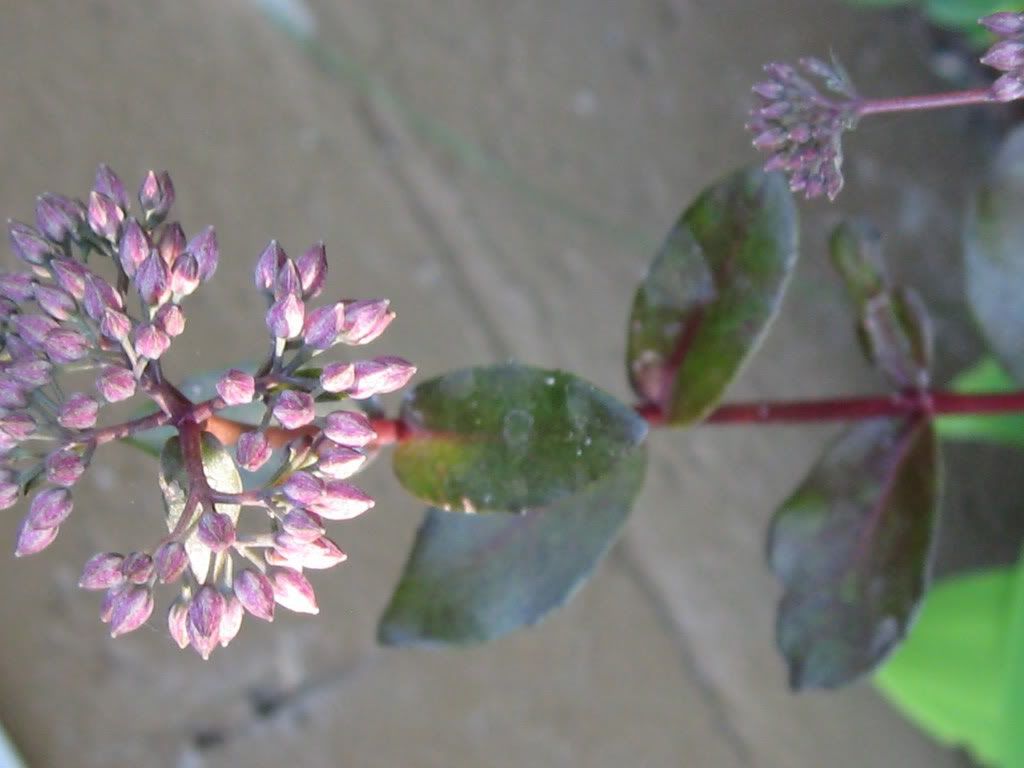 Another fine annual, doing its' thing all summer....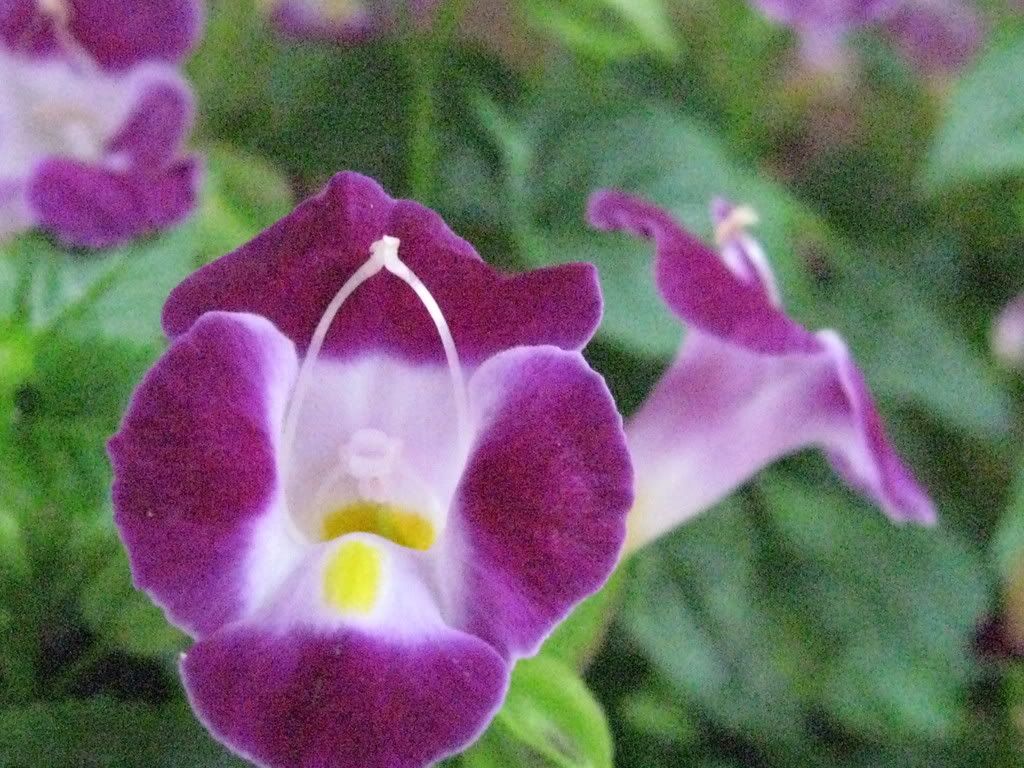 ...even my water garden plants are blooming! This is
duck potato
...I plan to plant it out along the riverbank after I've had my fun with it for the summer, and hopefully it'll return okay in its' new home.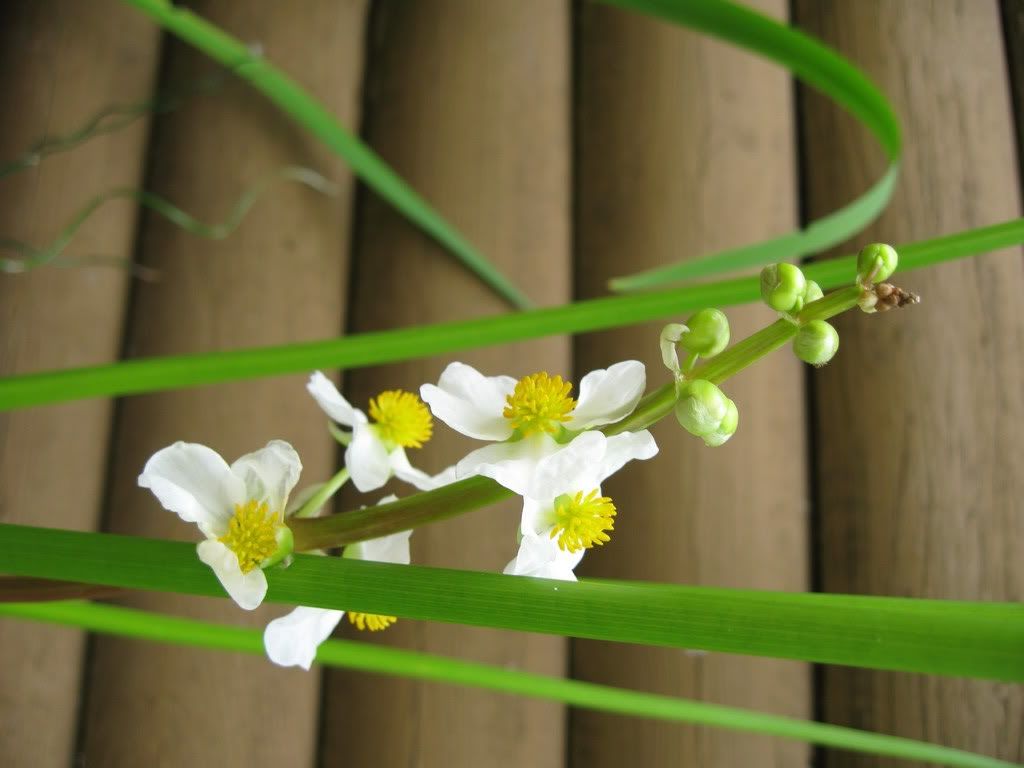 The bees are digging it, for sure!
Another nice daylily providing a late display. Also a passalong from my mom, so no specific cultivar info :(
And may I present...
Impatiens balfourii
! I grew this from seed this year, so I'm doubly excited!
And my "regular" helenium, blooming despite the fact I cut off its' head earlier this year....cool!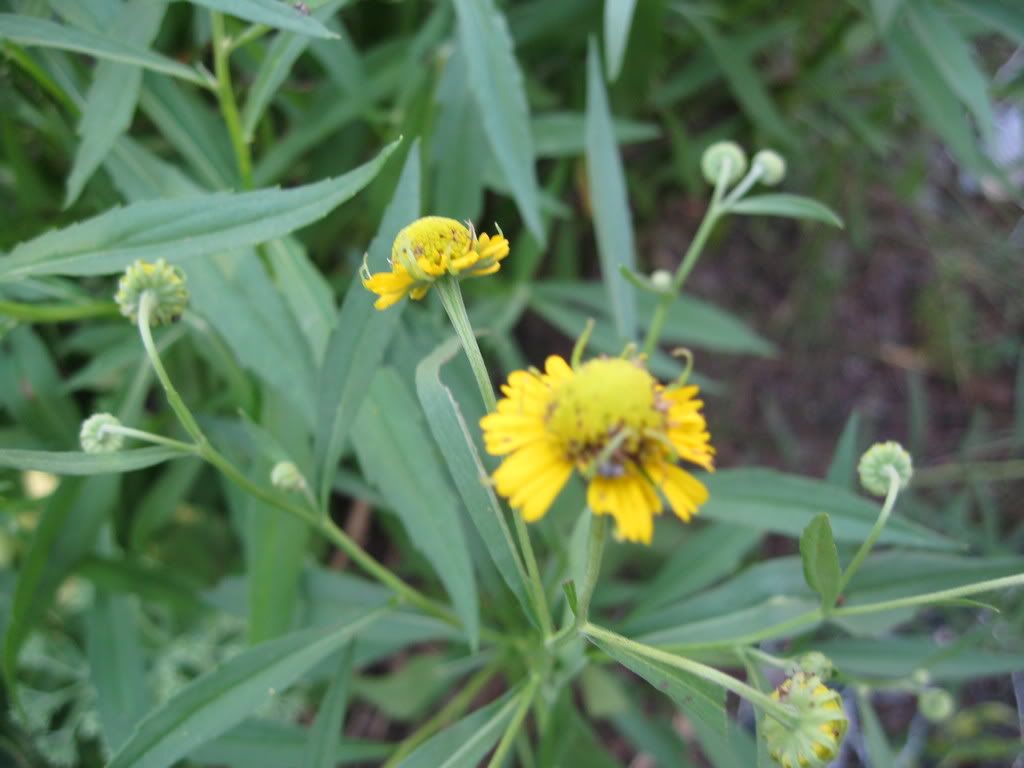 And lastly, my buddy the
Five-Lined Skink
....okay,
not
an actual
bloom
, but I think he's pretty like a flower!