The kindest cut...
most gardeners are well acquainted with the concepts of pruning and dead-heading. These tasks have always made me uneasy, however, and not because I'm lazy or anything (I
am
, but that's not the point.) It's just that I'm afraid, rather irrationally so, that the plant will up and die on me. But with all my wild animals "pruning" without permission, I'm coming around. So this year, the slicing commences! First, my new hydrangea "Little Lamb"...very impressive first year with its healthy branches and enthusiastic blooms. Too enthusiastic for its own good, as the branches are sagging under the weight of the blooms...
....so I lobbed off all but one small bloom-much better! Poor thing has to contend with drought as it is, along with some creature digging around the roots (prompting the placement of the recycled rubber "tree guard"), so now it can save energy for getting established.
This nice dianthus was a blooming machine in the spring, so how about some scissor-action to promote re-bloom?
And here it is....not as pretty as in spring, and the foliage is suffering from the dry weather. Likely more blooming than I'd have seen
without
dead-heading though, so what the hey.
Late one evening....I got to looking at my sneezeweed (helenium), and thought-"What if I cut this back early in the year...will it still bloom?" Never tried it before, but why not?
Whack! Down to half its size! Sure hope it still blooms....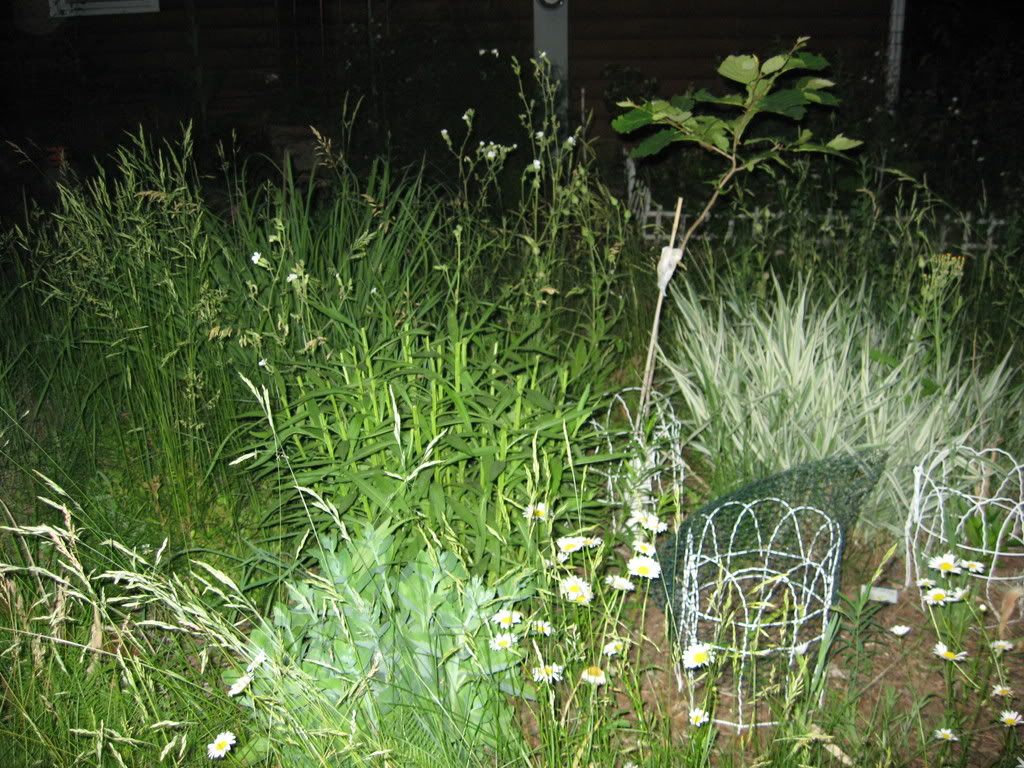 ....and happily, it does! It still got fairly tall (3 feet or so), but not the 5 feet tall like usual, and there look to be just as many blooms as last year! This is good information for me, cuz' I added several more heleniums this year, and some are sited rather foolishly in front of plants that won't like the shade. Now I can just prune back the heleniums to give everybody a fighting chance. Cool!
More dianthus....I have quite a few of these, and I seem to get more every year...hmm...."Dianthus Anonymous"? (Yea, and hosta anon., sedum anon., etc., etc., ha!) Anyhow, off with its heads!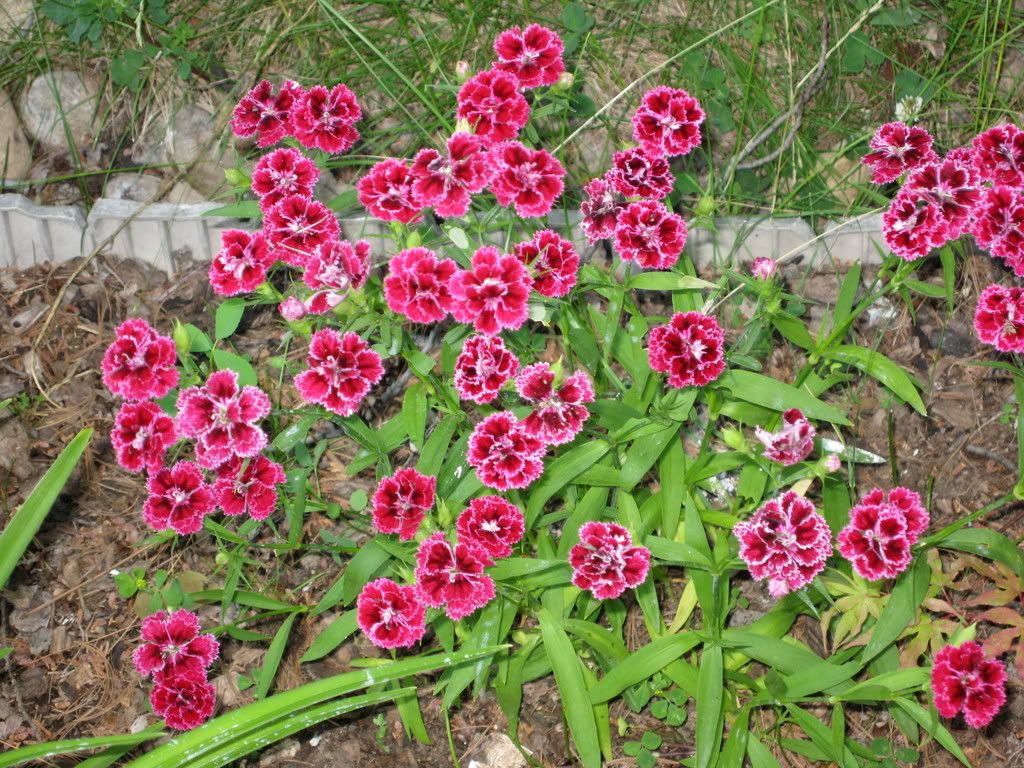 This time, re-bloom is almost as good as first bloom...super!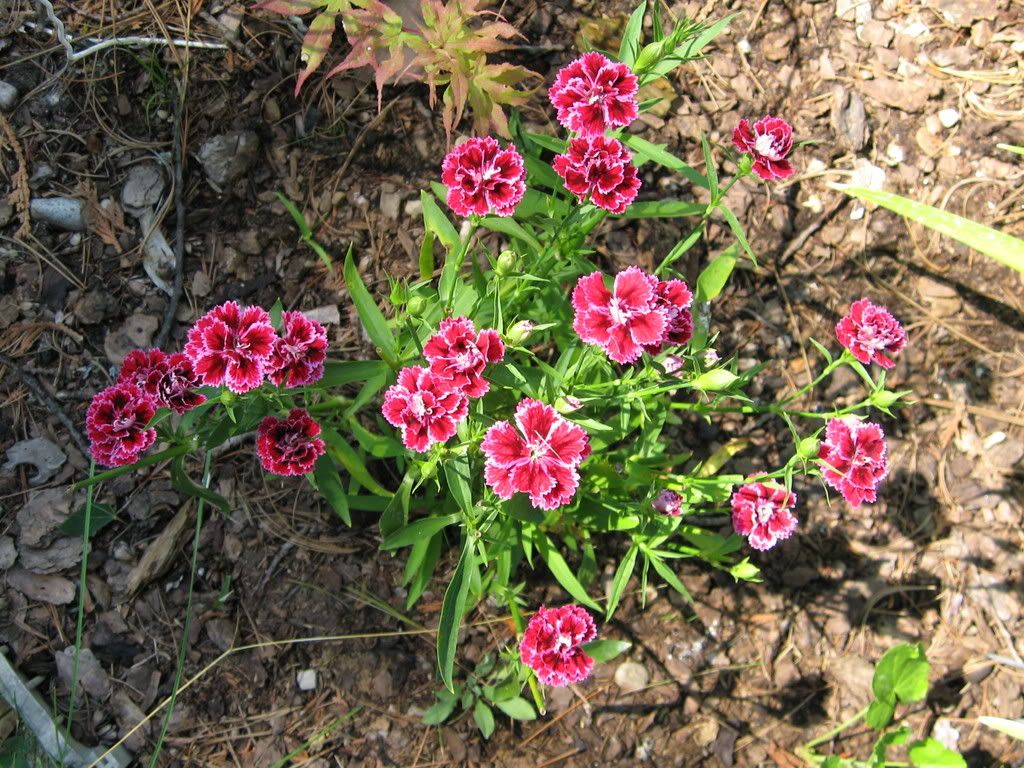 Now friends, this here story doesn't end quite as well. This purple beauty is "Husker Red" penstemon, minding its own business doin' its growing thing this spring...
.....dig the nice flowers....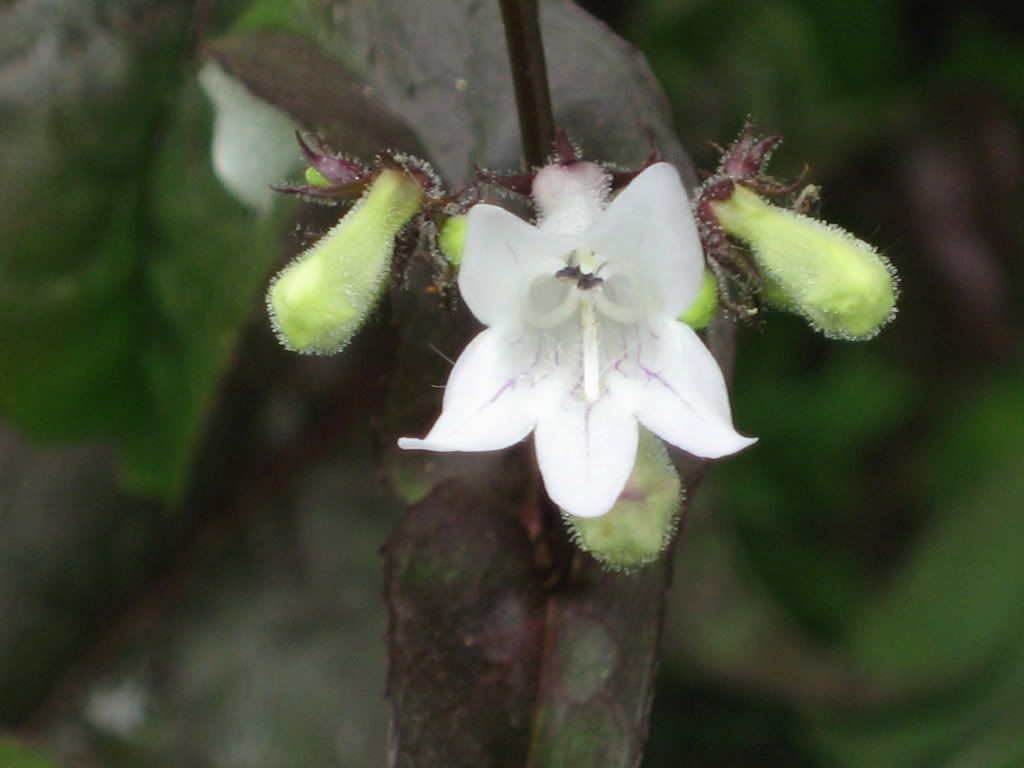 ....I mean, pretty and very contrasty...nice! So "Lisa the executioner" decides that some cutting-back is appropriate here....
......and for the rest of the season, my penstemon pouts.....
no more blooms!
Crap! Note to self: leave the penstemon the hell alone!
More pretty dianthus....this one was purchased as an "annual", yet returned from root for the 3rd year.
Looks awfully naked after the pruning....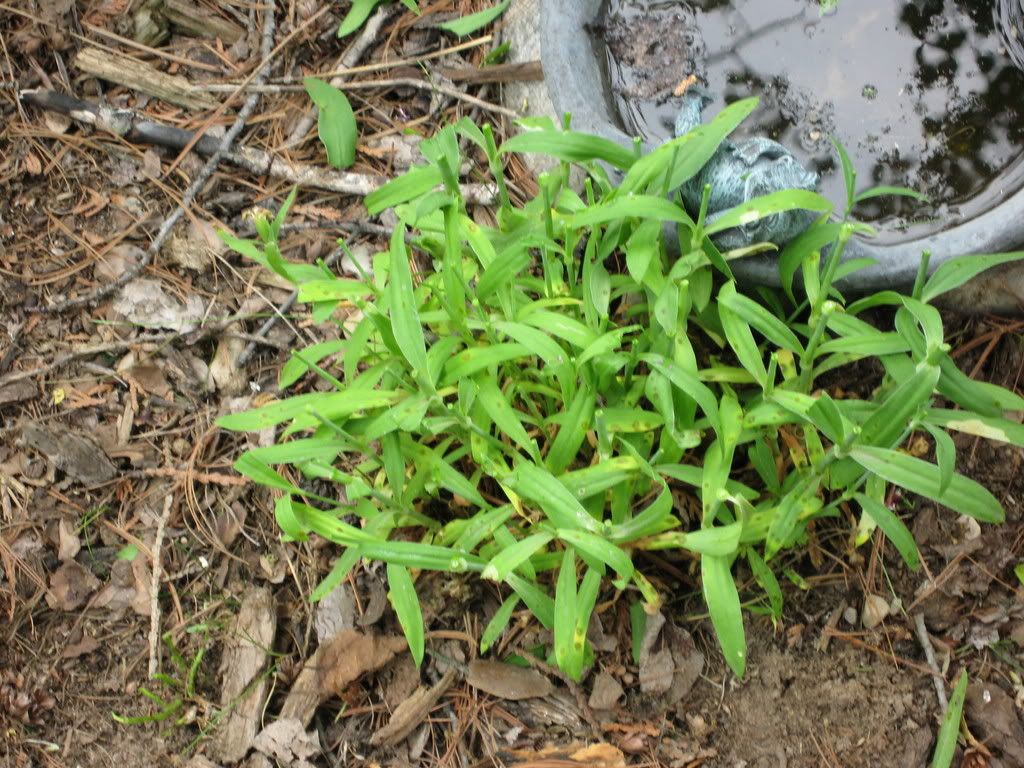 ........second bloom here is rather enemic too. Oh well, can't win em' all! So I pruned it back again...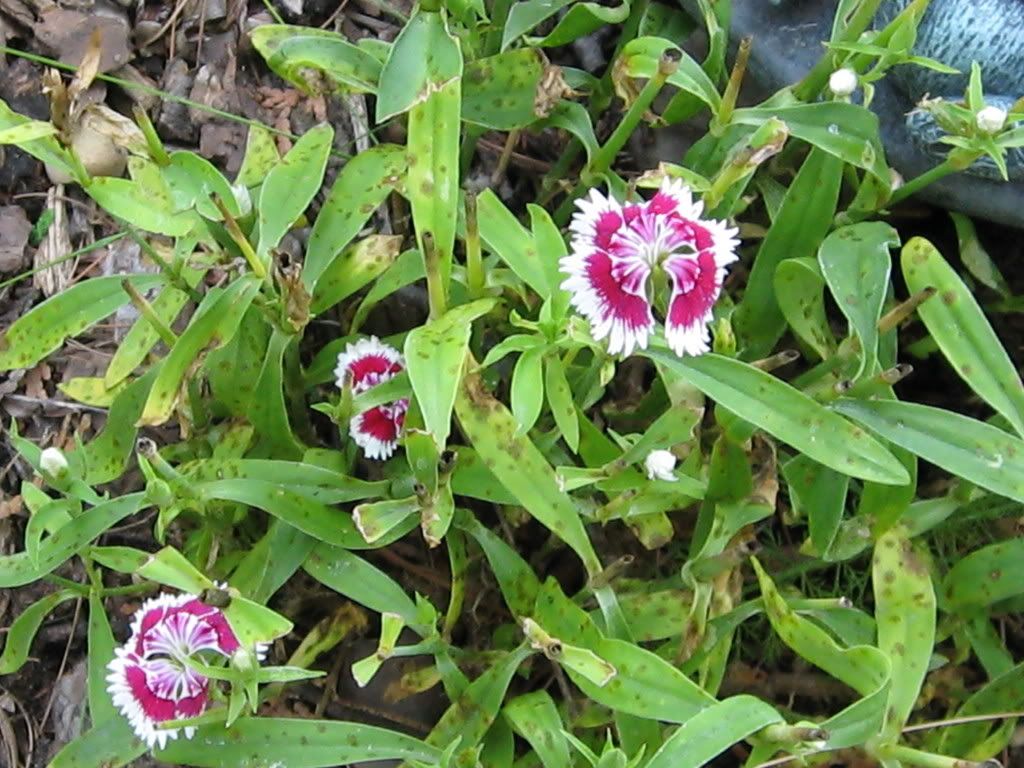 ....and got a
3rd
flush of bloom....still less than the first, but that's to be expected anyhow.
These two "Charlie Brown" looking trees to the left of the photo were wild-acquired natives, and I'm not exactly sure what they are...hemlocks? They drop their needles in fall, then green up in spring (my tree ID skills ae sorely lacking). Anyway, I want the one to the right to be shorter, so.....
....off with your head! I have an "Olga Bay" larch that was pruned for me by some-one or some-thing, and it's all bushy and kinda cool, so that's what I'm after here. Looks sort of pitiful at first, though.
What a difference a couple months makes! Bushing up just fine....now these two can be "me and mini-me", and the locust tree that I want to plant behind it will get plenty of sun.
Here's one more pruning experiment gone wrong...baptisia from
Plant Delights
which has bloomed very well for the past 2 years. However, it's planted in front of a hops vine which is struggling in the shade. So I cut back baptisia earlier in the year, and this is how it stayed...*sigh*. Got some new top growth, but no blooms....next year the hops vine is on its own!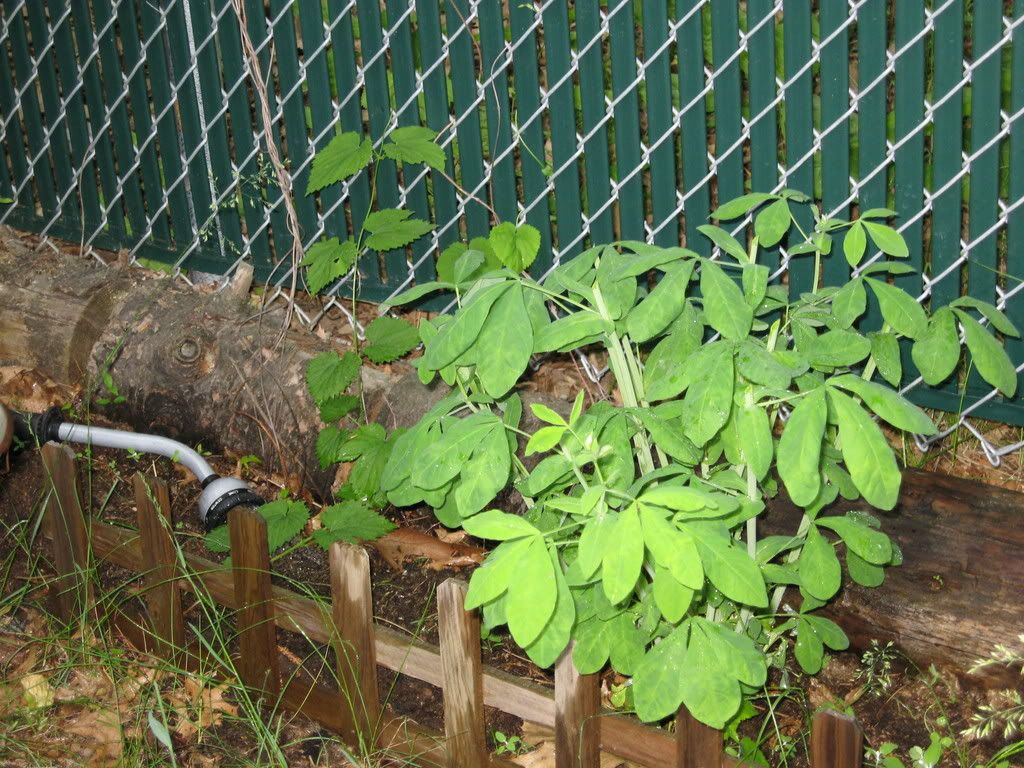 And who could forget the most reliable and worthwhile pruning subject-phlox! My mom says you can cut these back to about 8" tall until the fourth of July (she's in zone 5, but I'm close enough), so then they stay bushy and don't flop over with blooms. Sucess!