Seven Random Things...
so awhile back I was tagged for this meme by
Chuck
, and as you see it took me awhile to get to it. It would have been fairly cool to do it on the 7th, but I'm just not that organized. So here goes...
#1
-I've always been a fan of silly humor and puns, as evidenced by this old high school age picture. This was at my neighbor's house after a really bad storm-they had 12 big cherry trees come down, amazingly none on their house!
#2
-My dad was a really excellent guy, and I miss him a lot. He's been gone 21 years from lung cancer-and now my 24 yr. old son smokes...*sigh* ....hope I can convince him to quit somehow, he really doesn't remember his grandpa enough to realize what an awful way that is to die. (Of course he's unbreakable, like all young people!)
#3
-I like changing my hairstyle, even though I haven't done it in awhile. Long and straight...
...late 70's "Barbara Streisand" fro, very short, even a "female mullet" in the 80's (sorry no pic)...frosted....
...flaxen, waxen, knotted, polka-dotted, twisted, beaded, braided, powdered, flowered and confettied, bangled, tangled, spangled and spaghettied! ;-)
#4
-This is what my workspace looks like...I got into medicine kinda by accident, but it turns out that I really love it, even though I'd never considered it a dream job. I just wanted something that provided a good income for a single mother with a small child, and it was only a 2 year program for x-ray...later MRI was on the job training. But I confess, after 19 years, I'm still not bored, nor do I dread going to work.
#5
-I absolutely, positively
love
men! I like the way they sound, the way they smell, the way they move...
everything
about them! And if you'd told me 10 years ago that I'd end up single at my age, I'd said you're full of it. But here I am, and I must say that I'm very content...in fact, sometimes I wonder why....then I think "Don't be silly-if it works, go with it!" But one thing I've learned about romance-physical appearance has almost
nothing
to do with it (as evidenced by this exquisite creature I dated a couple years ago), and if some fine, foxy dude wants to get to know you better-you take him at his word and enjoy his company...leave your hang-ups behind!
#6
-I also
love
horses! Since I was very small, I begged my parents for a horse...even wore out my "wonder horse" on springs (y'know, the bouncy, plastic horses on springs-do they even
make
those anymore?), until finally, when I was in jr. high, they relented. This is her, "Foolish Guns" (I know, stupid name but I didn't pick it), and we had a great time together! Horse shows, trail rides, drill team/parades, even a "costume class" in 4-H...it was a big part of my awesome childhood that I will always be grateful for!
These two were my equine friends that I sold right before I moved to Wisconsin....the smaller sorrel filly is the palomino's daughter. We'd just come back from a long ride, and this is the filly's first time wearing a saddle. I was very proud (and shocked!) that she cooperated so well, and although I didn't keep her until she was old enough to ride, I bet she was a breeze to break. Funny, I was really intimidated at the prospect of handling a foal, but it was really fun, and I'd do it again in a minute!
#7
-and here we are at number seven....I guess the only other random thing is that I want to put in a plug for motherhood, cuz' it's by far the best experience of my entire life, and probably the only thing I've ever done that really matters! My only regret is having done it only once!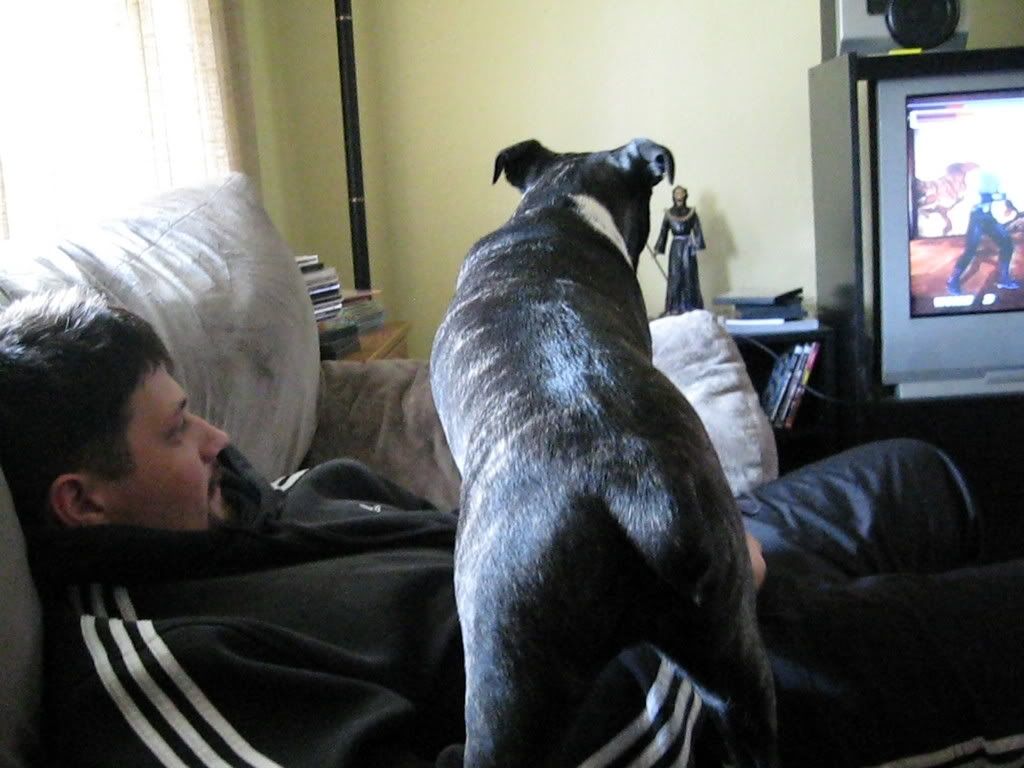 So the sun sets on my Seven Random Things...and although I realize that I'm supposed to "tag" seven others, I'm not gonna! Guess that's my "8th" random thing-I'm stubborn as hell! ;-)