The dawning of August Bloom Day...
and I'm awake to see it!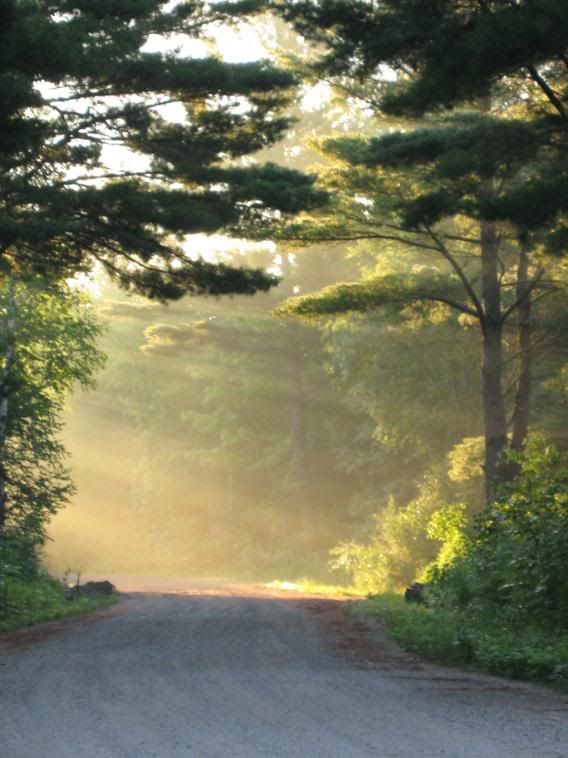 This cute annual has a papery texture, and remained closed-looking like this for the longest time...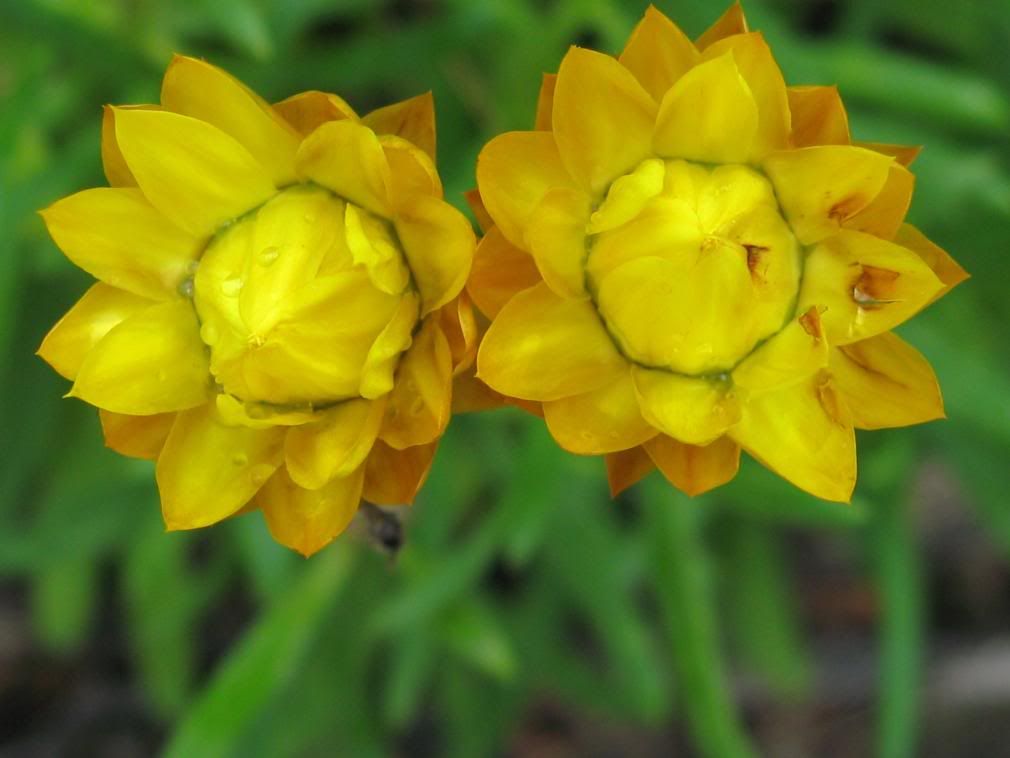 ....that I had no idea it was hiding this bloom!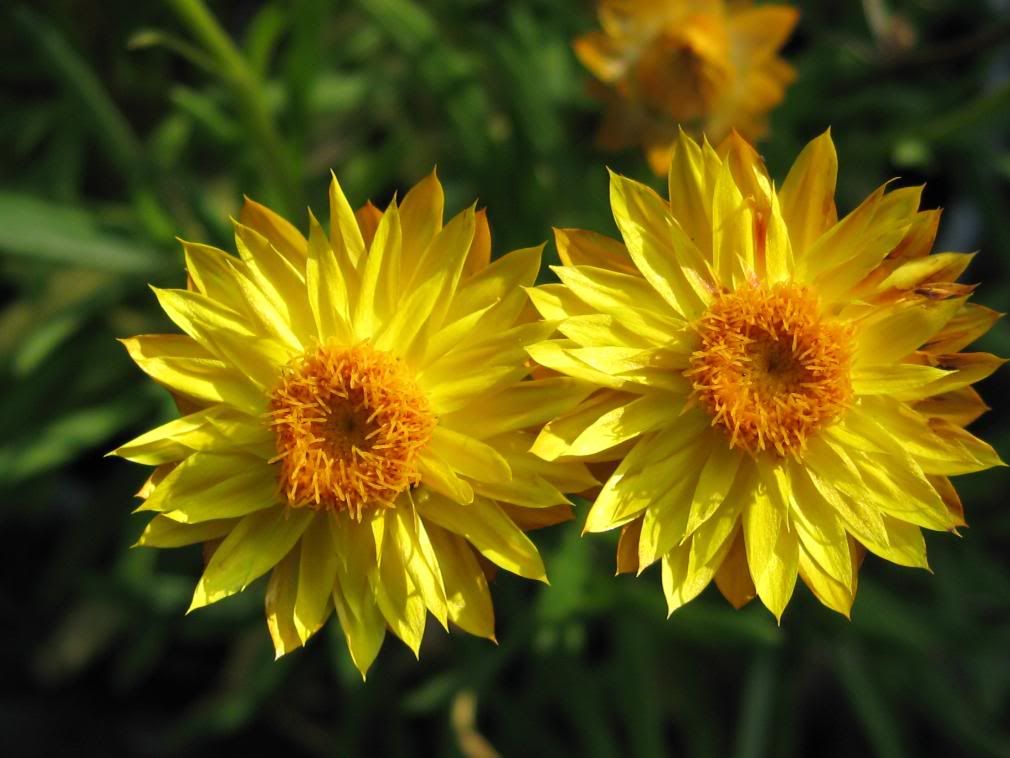 Daylily "Strawberry Candy"....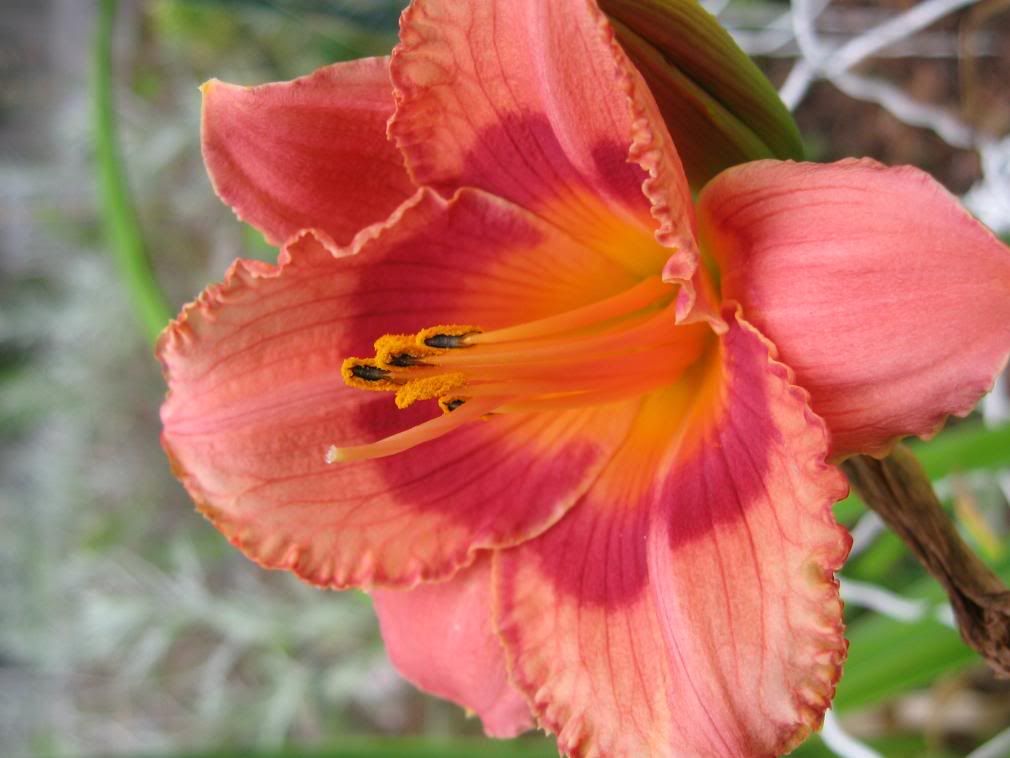 .....double yellow hollyhock...I want some of the super-tall old-fashioned varieties too. (This gets only about 3 feet tall for me.)
I really like it when I can get a color scheme going like this, especially by accident! (That's right! It's the dreaded "red and yellow" combo! Mwahahahahahahaha!)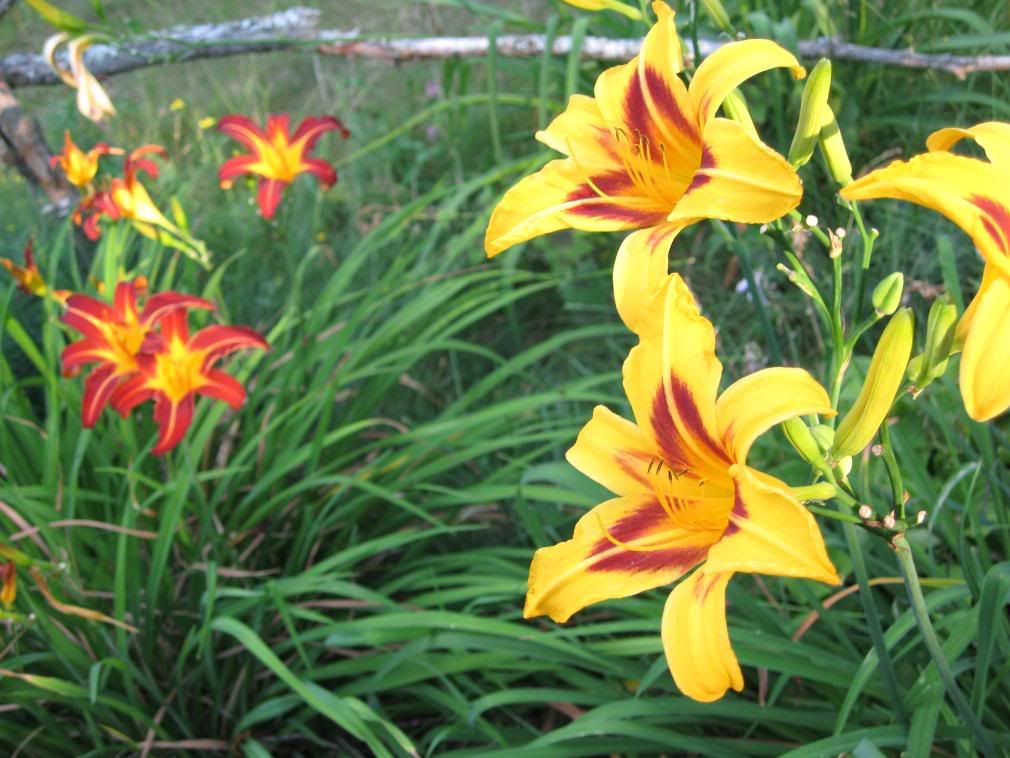 "Lorraine Sunshine" heliopsis still blooming like crazy...
....cute little five-lined skinks show themselves here and there all summer...
.....and these yummy blackberries are just ripening...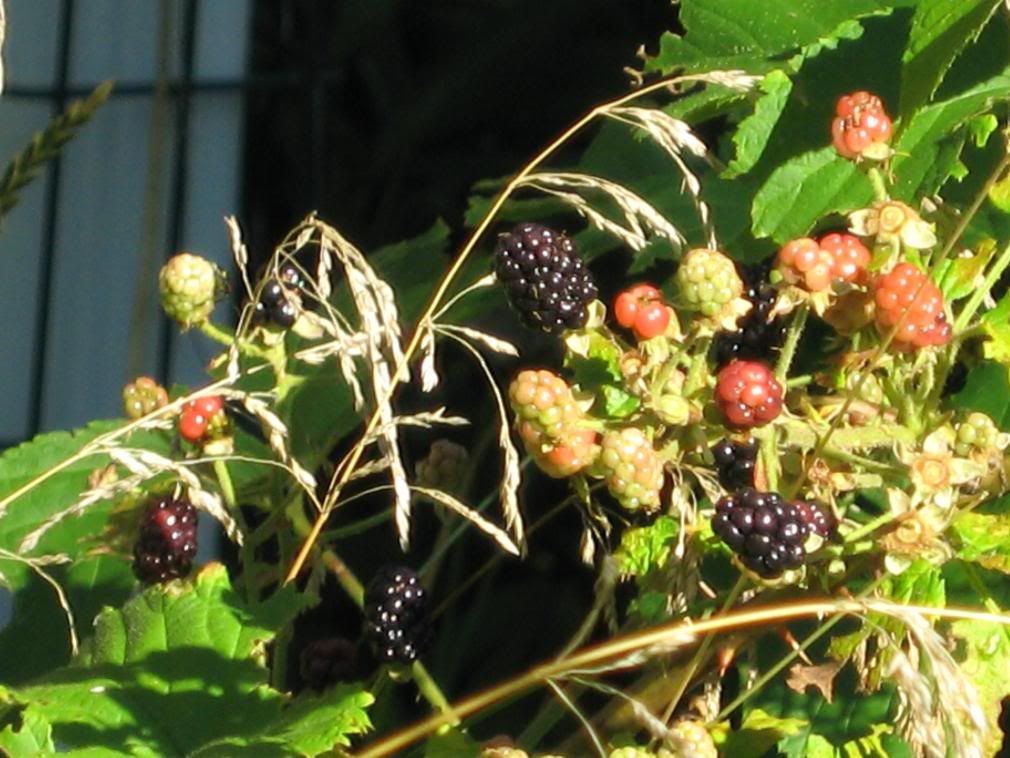 .....some sort of cute skipper enjoying the coneflowers....
.....with some funky folded wings! (Wasn't there a paper airplane that looked something like this in grade school?)
The water garden tubs finally look good after a
bumpy start
. In fact, I think these are my favorite results so far, except for the water lilies...I miss the way the pads look, even if they don't bloom for me.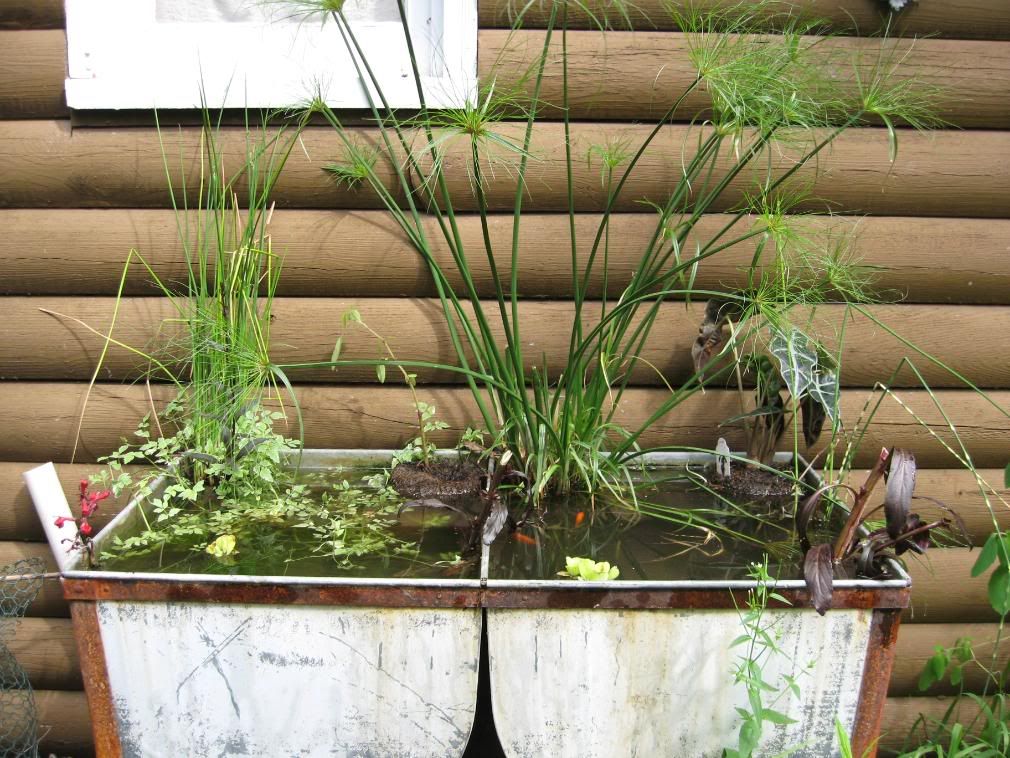 Even the "feeder goldfish" seem happy! (Maybe because they aren't being
fed
to anything :)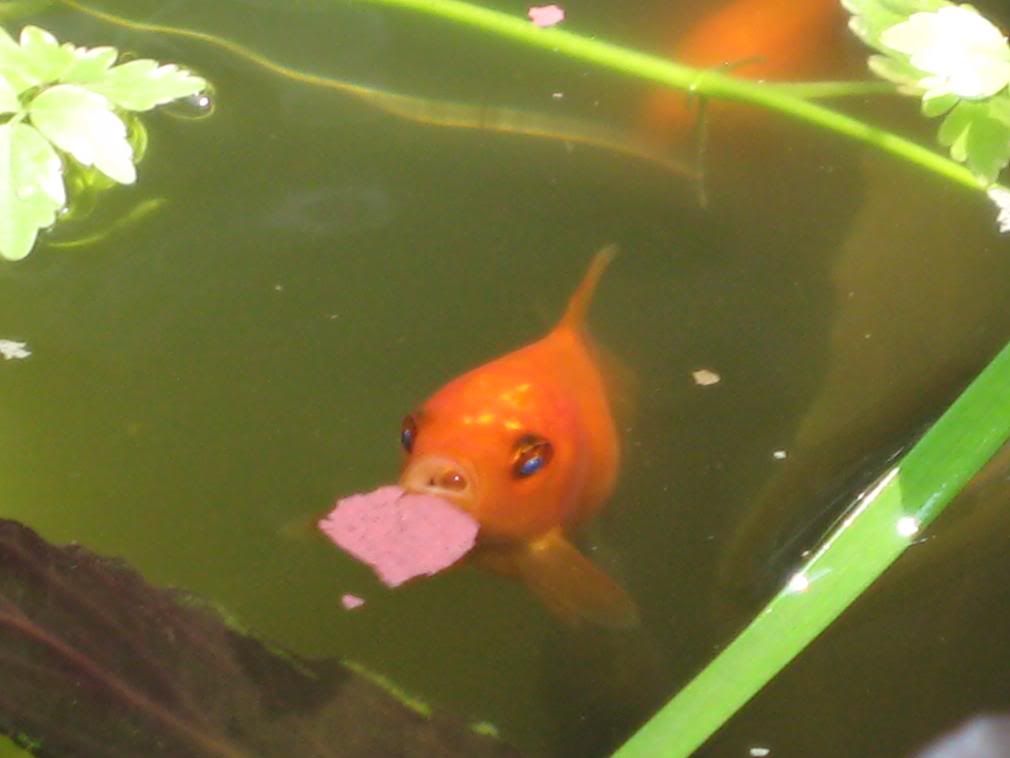 Purple prairie clover blooming more than ever....
....and this sucessful sedum nearly concealing this little frog...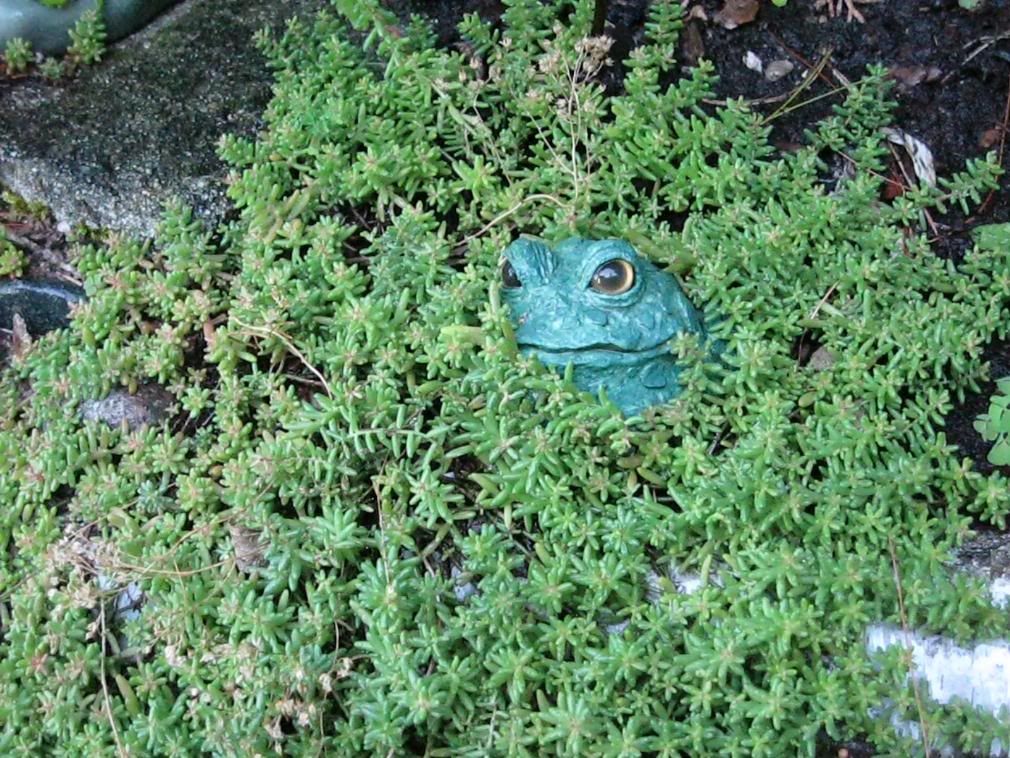 .....this cyclamen is exciting for me, I've never had these grow, let alone bloom!
This daylilies' name is unknown to me, as it was a passalong from my sister. (I like it, though!)
Nice volunteer morning glory...lots of people find them invasive, but they behave almost
too
well for me....I want more!
Weigela 'White Knight' re-blooming....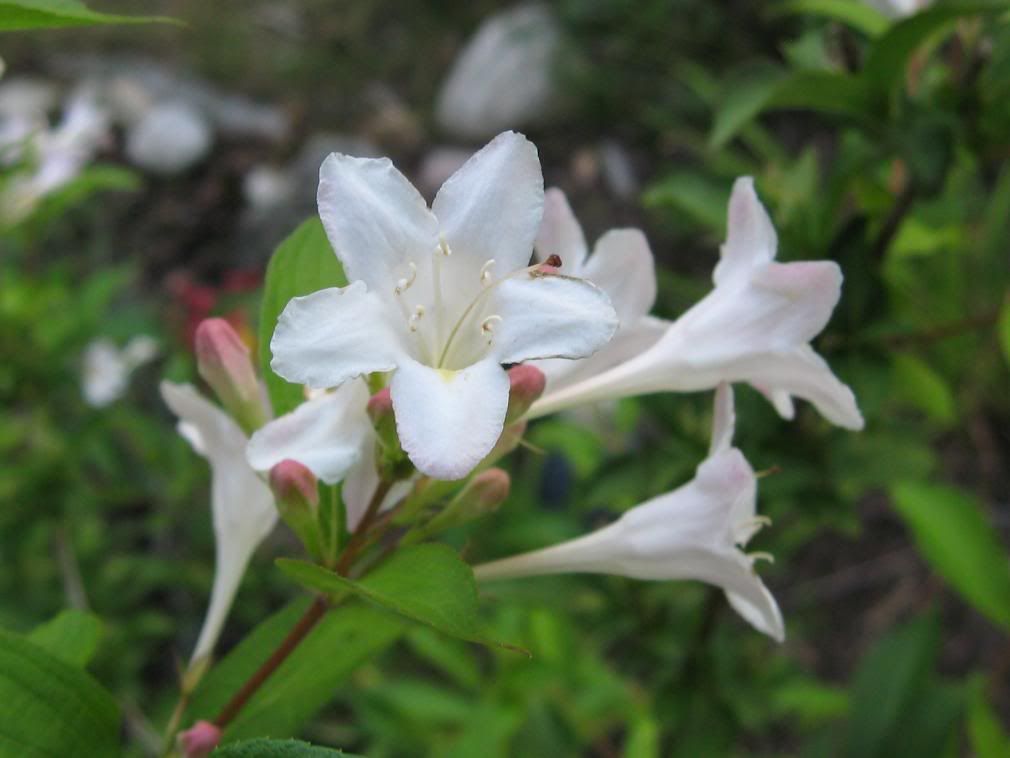 ...'Stargazer' oriental lily blooming (and smelling) amazing...
.....so is her cousin, 'Mojave'....
....I like this coneflower, 'Green Envy'. I hope to collect lots of these, new cultivars as well as various wild types, since the pollinators love them so much.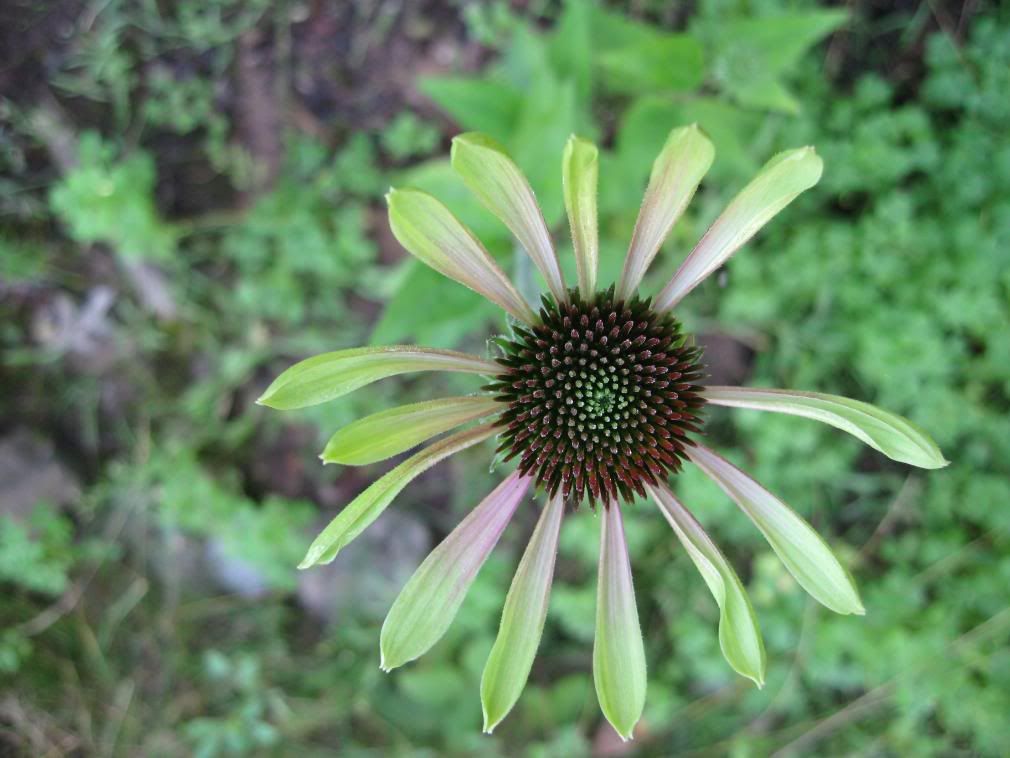 Okay, not blooms, but my birdhouses have been coming up with some strange occupants this year. I don't really understand how this rodent got in here, but when I looked later he was gone. I can't even tell if it's a chipmunk or red squirrel...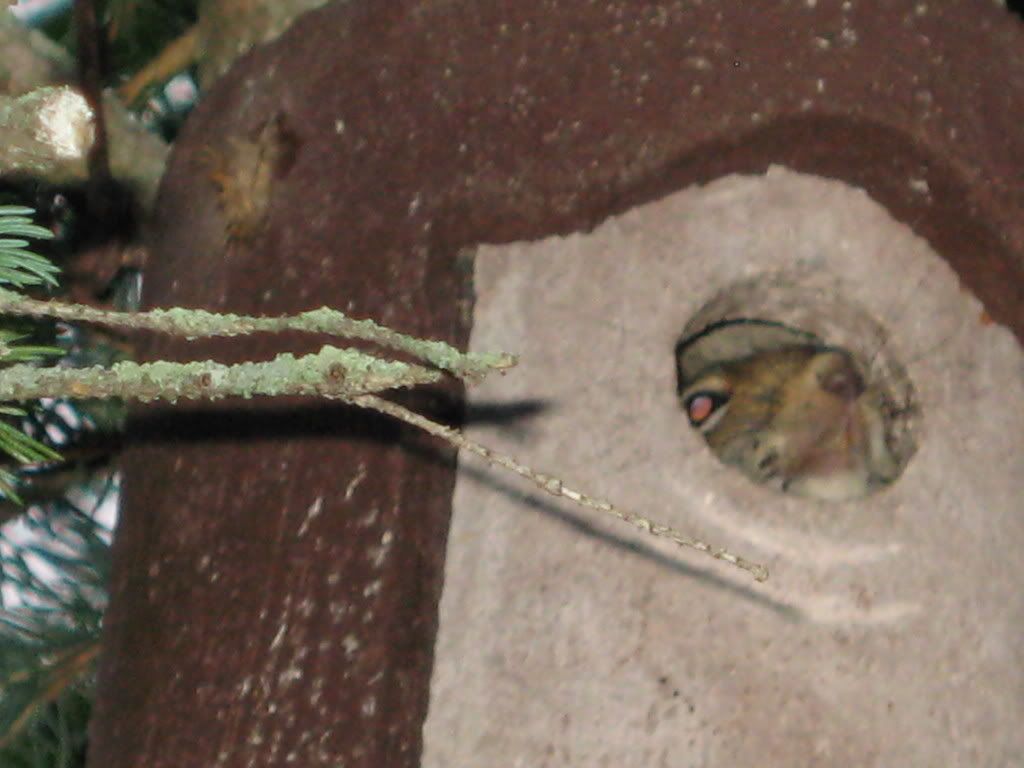 ...but I know who
this
is! This
Grey Tree Frog
was living in here last year, too. I'm glad these bird houses are being used, but I sure didn't think it would be by everything
except
birds! These are made from a cement/wood composite to be durable, and kinda expensive. Oh well...when you're a landlord to wild things, you can't always choose your tenants!
I don't have an official name for this daylily either, it was a passalong from my mom. LOVE the color, though...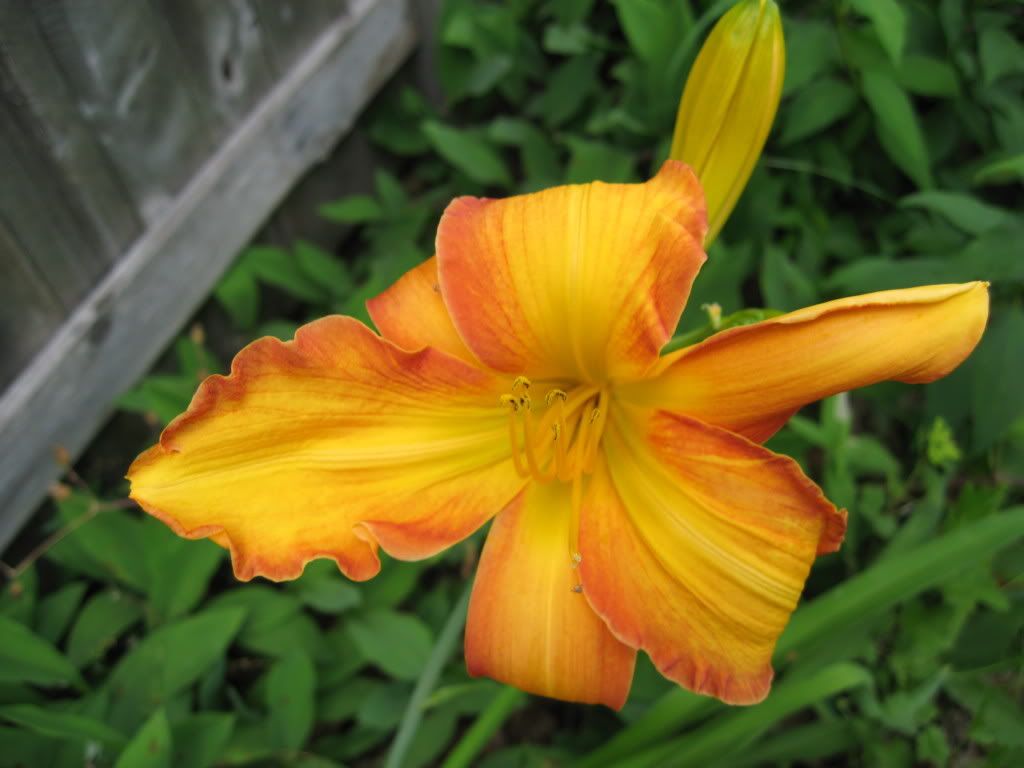 .....and I love to see these guys, too! This is a benefit from growing milkweed,
Monarch butterfly caterpillars.
They come in all sizes...
...and this one was
teeny!
But this bloom isn't! This daylily is 'Mary Todd'....
....more nice yellow, this is 'Prairie Sun' rudbeckia....
....and this pretty mushroom,
Amanita muscaria formosa
(I think).
Here's chicory! I have been trying to get this to grow for me a long time, even though it grows by the side of the road
everywhere
up here! Isn't that just how it goes?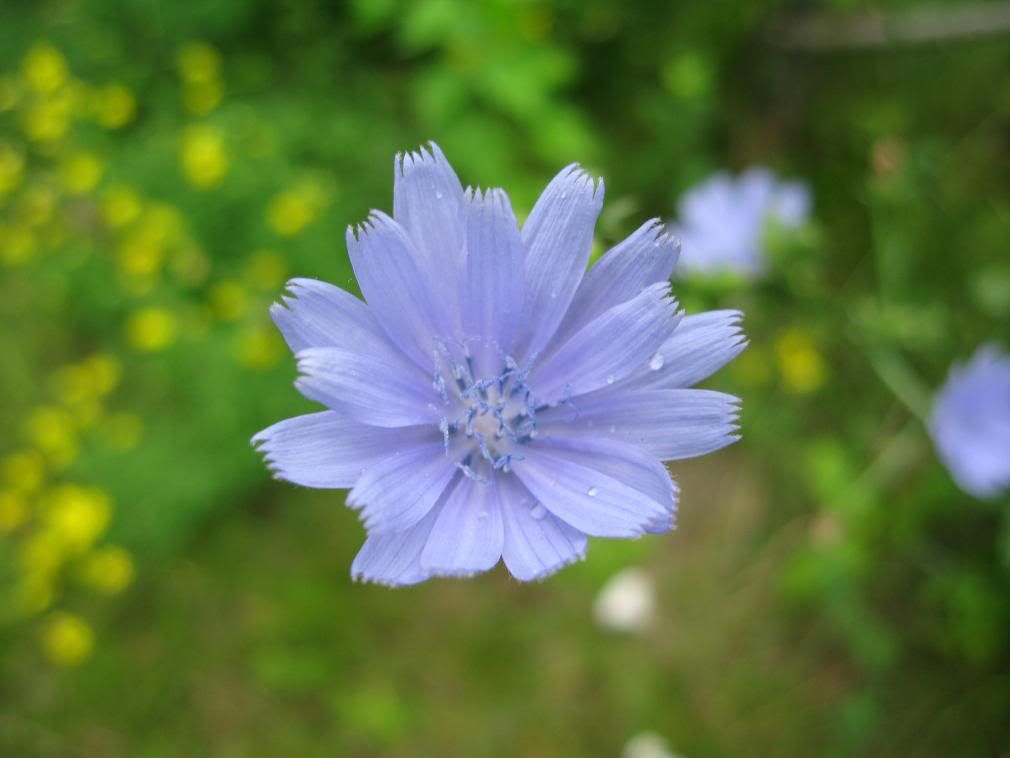 Not blooms again, but I can't stay on topic to save my life, so...the clinging birds found my upside-down suet feeder-yay! I was going through
way
too much peanut suet, mostly because of greedy red-wing blackbirds. But they don't like the regular ol' seed and suet cakes as much, so those are in my "regular" suet feeders and the good stuff is in here for just the woodpeckers and this
White-breasted Nuthatch
.
More pretty daylilies, this is 'Majic Dawn' next to 'Mary Todd'....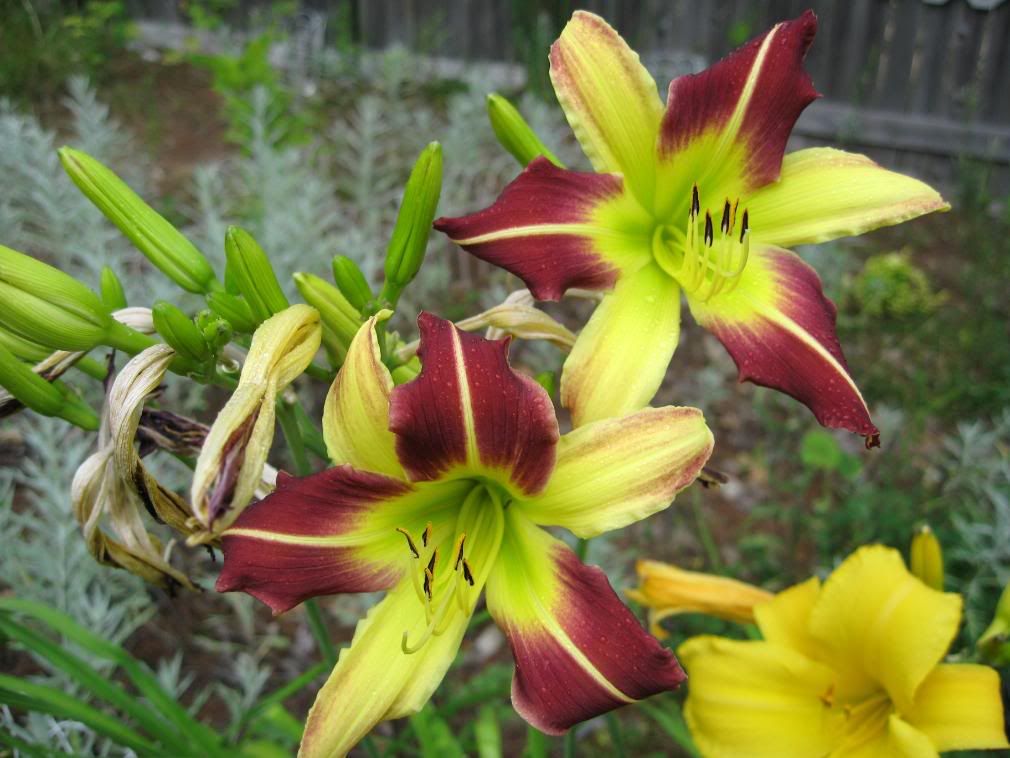 ...nice bright flower on this plant, whose name escapes me right now (the plant is grey and fuzzy like lamb's ear)...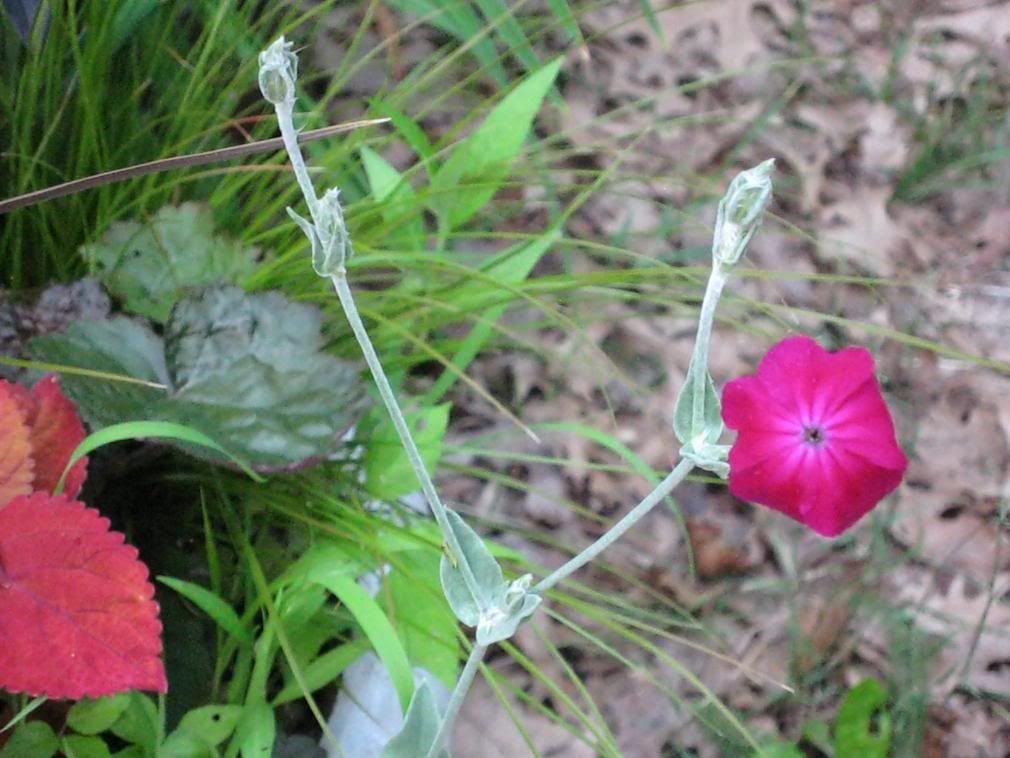 .....speaking of "escape", look who surprised me on the porch! Time to tidy up these pots and stuff!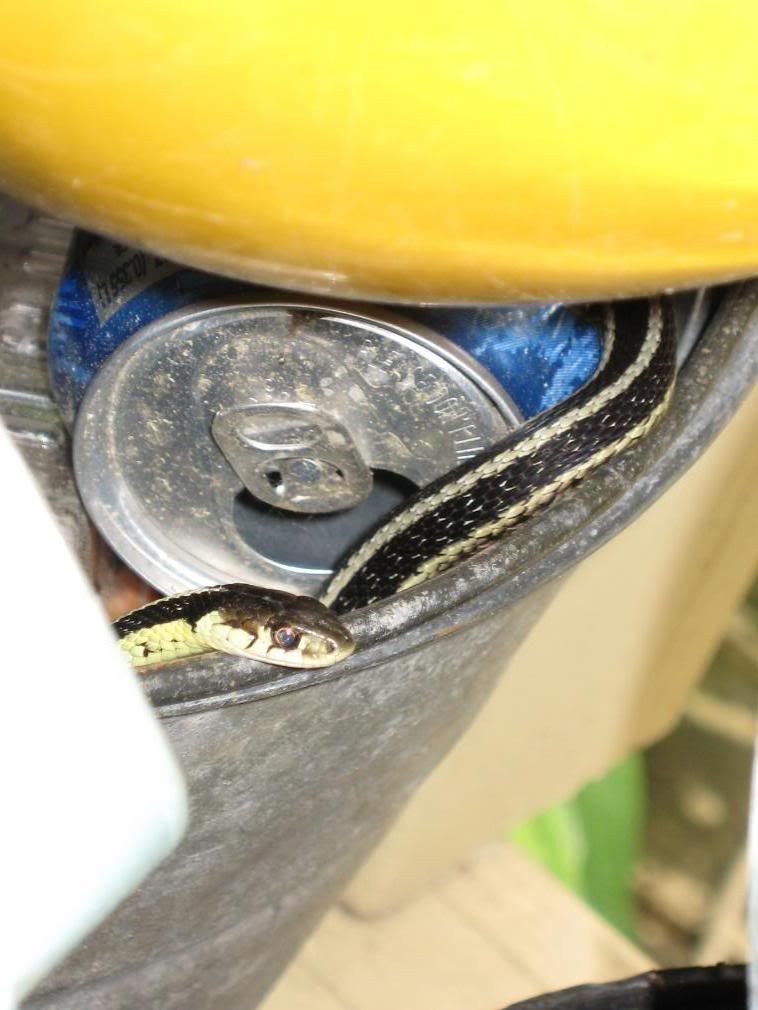 This planter is really going crazy! Even though it's crowded, I really like the way it's turning out...
.....especially considering where it was when first
started.
I hadn't been seeing as many frogs as usual this year until recently, but now these babies are
everywhere!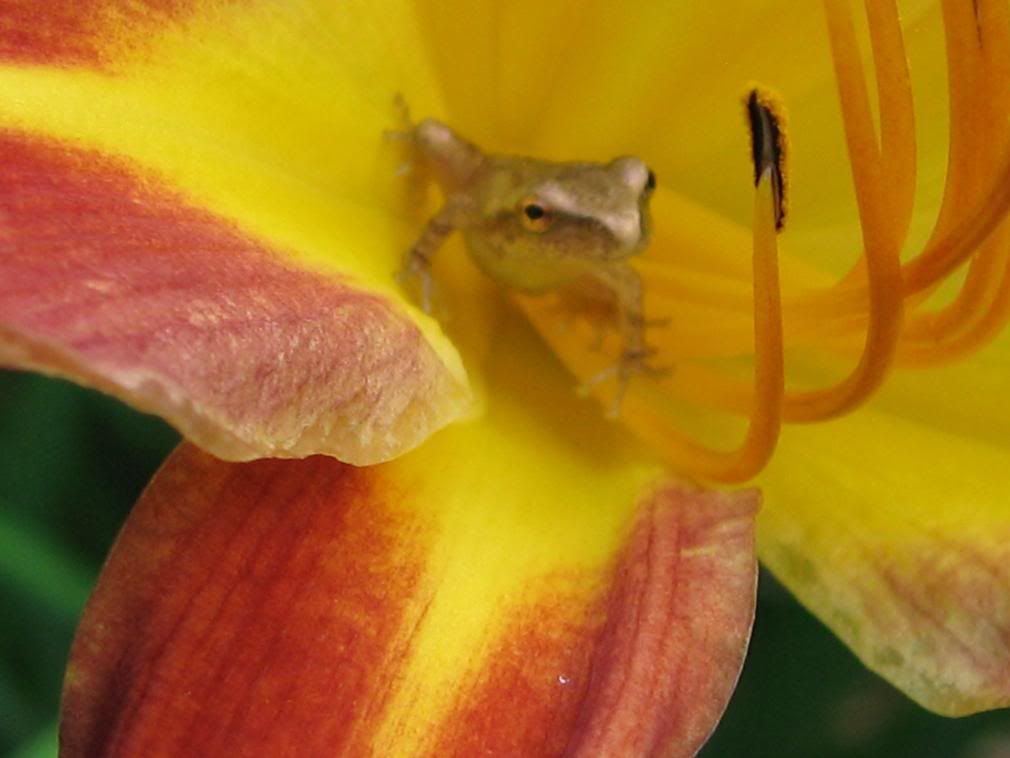 My strawberry begonia is still blooming in the garden, the flowers are so cute and airy...
...I like this Mexican Evening Primrose too. The bloom looks like it's wearing a scarf around its' "neck"....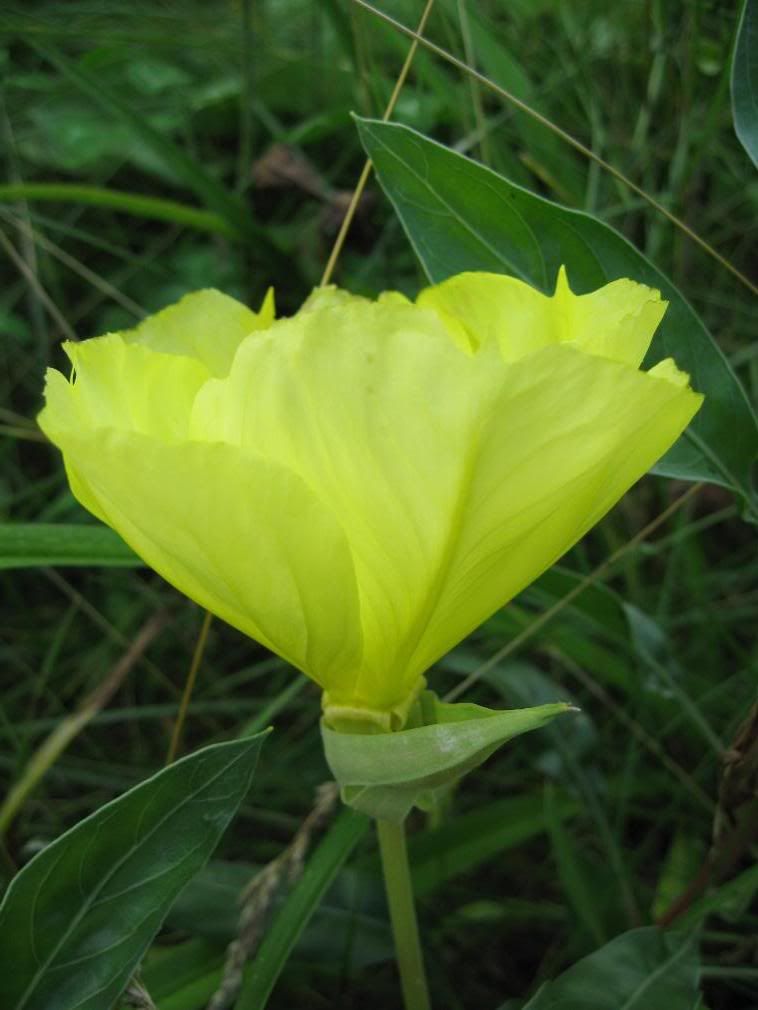 ...another nice daylily that I don't have an official ID for, but it looks like a "spider"-type bloom...
....sea holly blooming nicely...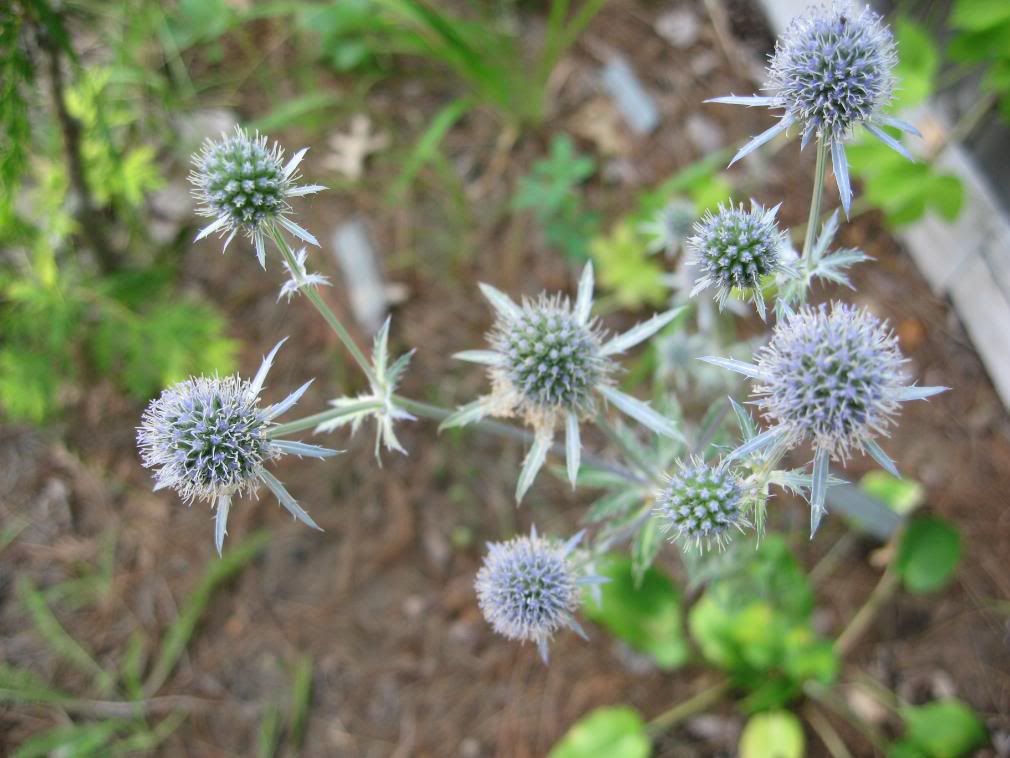 .....another coneflower, petals not quite open all the way. Some of these do have petals that stay like this, though.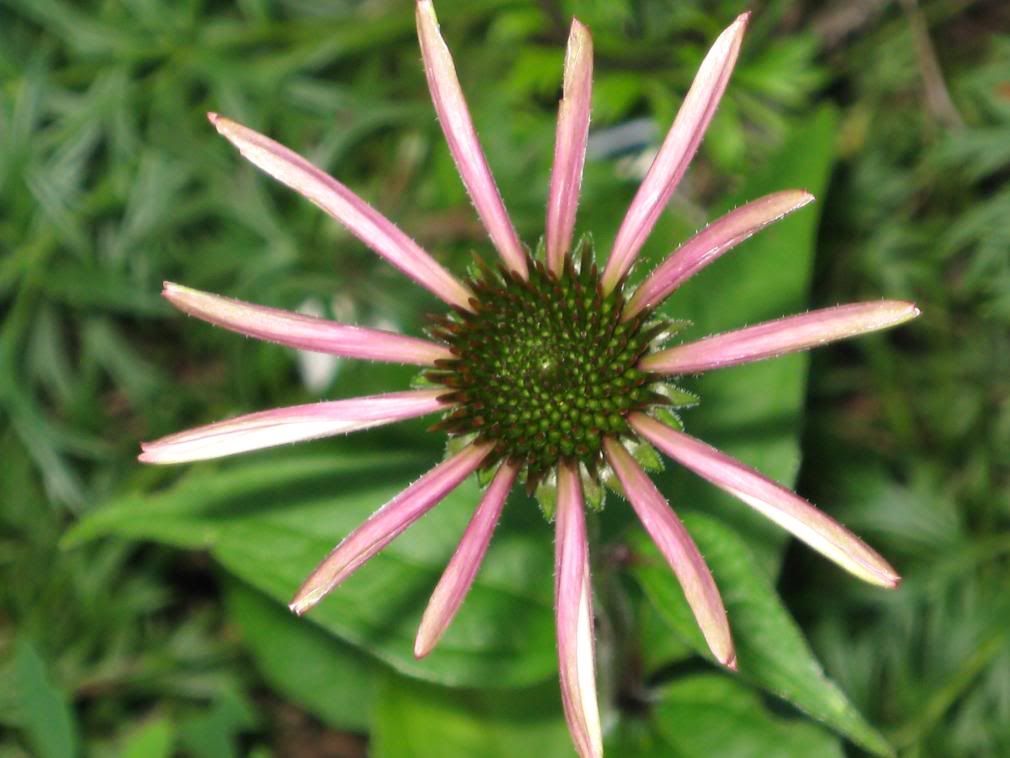 Cool blooms on this
Indian Pipe
...I have this in the woods around my yard.
Another nice coneflower, I think it's 'Kim's Knee-high'....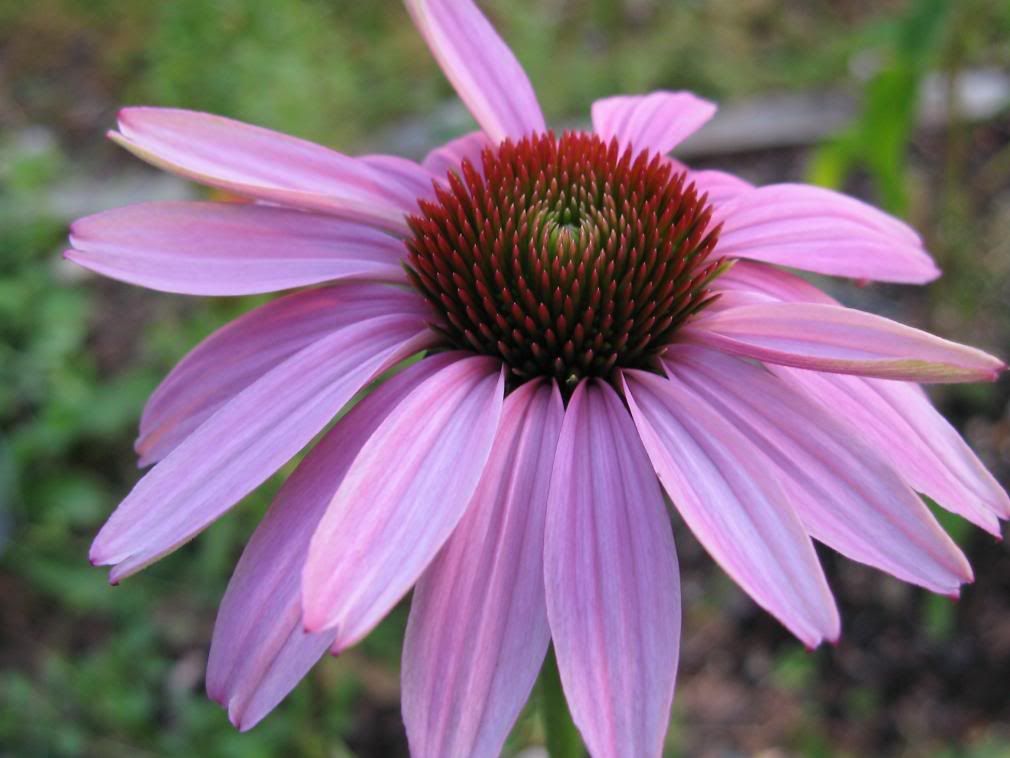 ....wild
Harebell
(I have a lot of this)....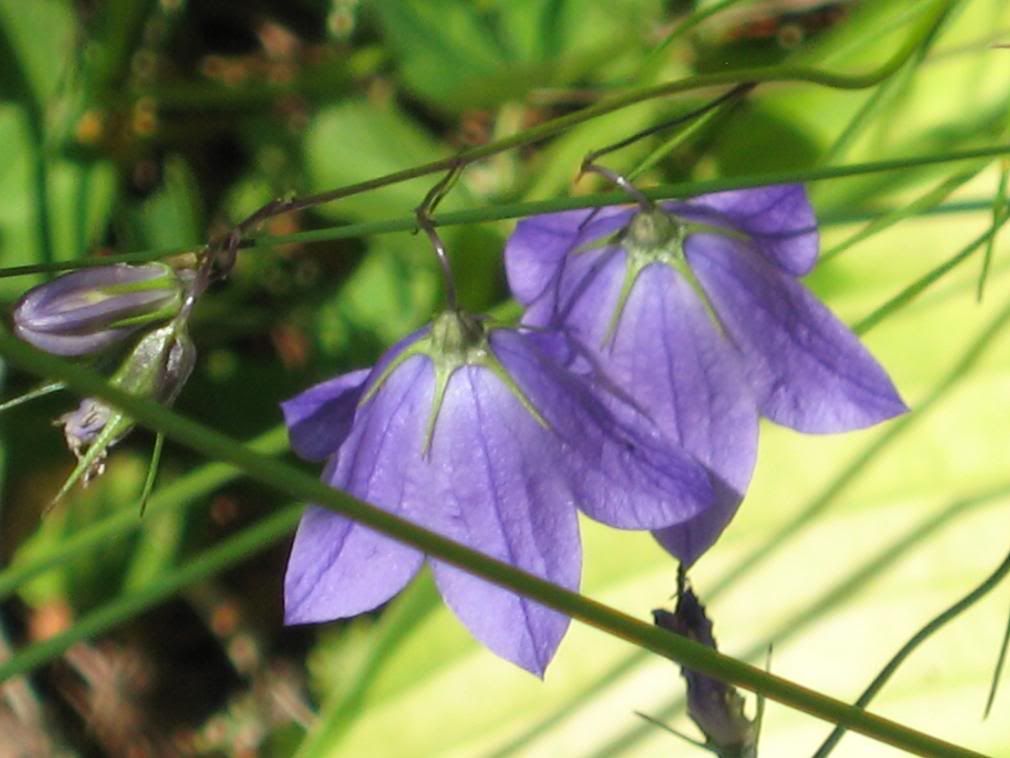 ...'Russian Princess' lobelia....
....hosta 'Fireworks'....
....'Ice Carnival' daylily...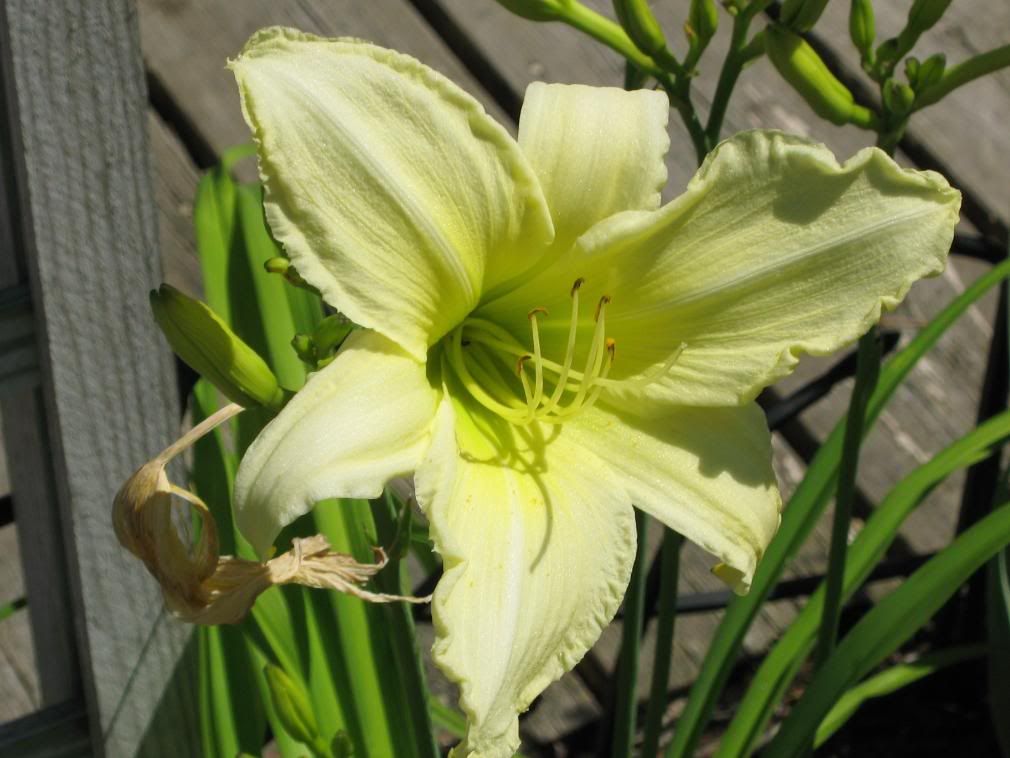 .....purple pimento pepper, and they smell fairly hot. Unfortunately, the only one to sample these so far is Gizmo the cat, and he's not talkin'! I picked five small peppers the other day, put them on the counter, and he
ate all of them!
Judging from the small bits of vomit I found in the kitchen, I'd say he's regretting that decision (goofball!).
Dyalily 'Blueberry Sundae'....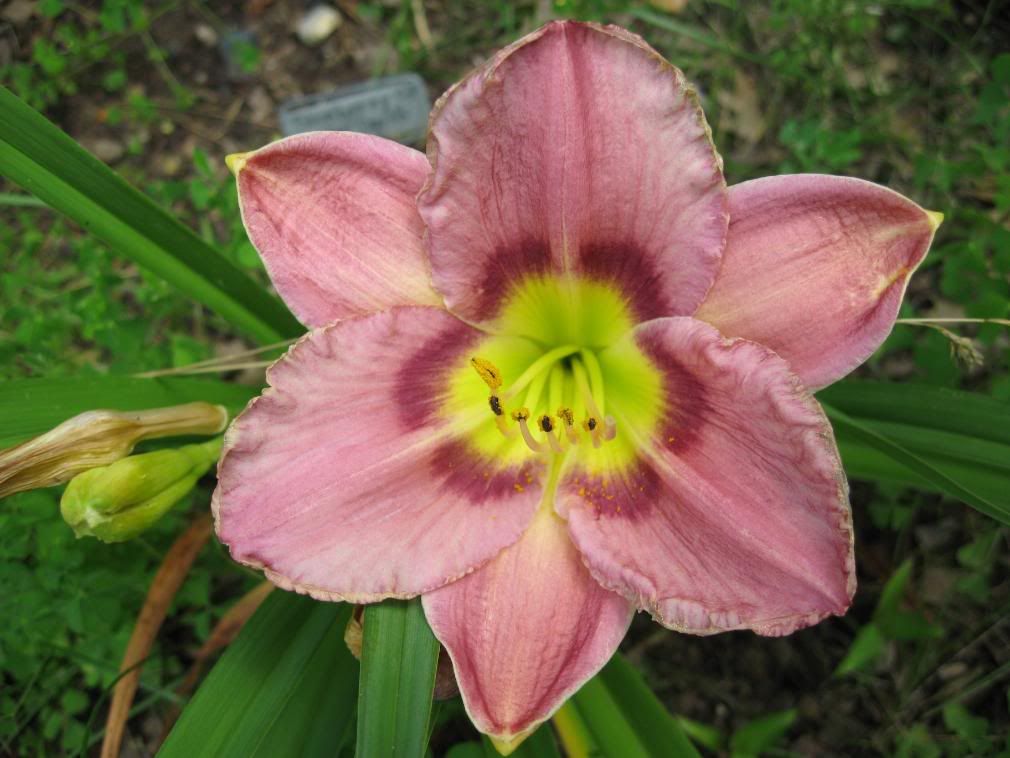 ....white cat, 'Bentley'...okay, again
not
bloom, but I let the cats out for a bit the other day and have to mention it. Bentley wasn't too thrilled, he mostly stayed on the porch and complained...
...Gizmo, however was very interested in exploring....
....pretty much
everywhere
! My son would be upset to know I let them out, because they have always been house cats, and eagles cruise overhead out here regularly. (These guys would be very tasty to a large raptor like that, as well as easy pickins'.) But they always meow when I'm outside, so I thought I'd let them come out already. They did fine, but Bentley was pissed at Gizmo when they got back in the house. He growled and hissed at Giz for a good couple hours, then seemed to get over it. I think he was upset that Gizmo didn't come when Bentley called to him from the porch, but who knows.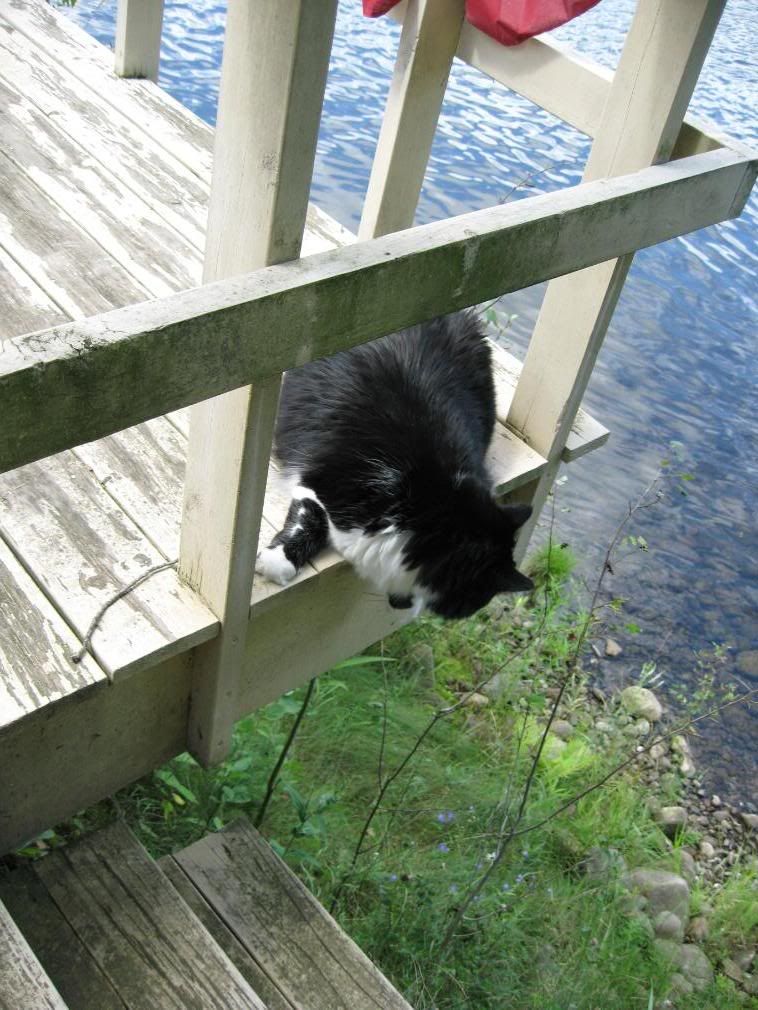 Very cool double daylily, I think it's called
'Kwanzo'
. I got it as a passalong from my mom...
....and I love it! It blooms more than doulble...like triple and quadruple sometimes!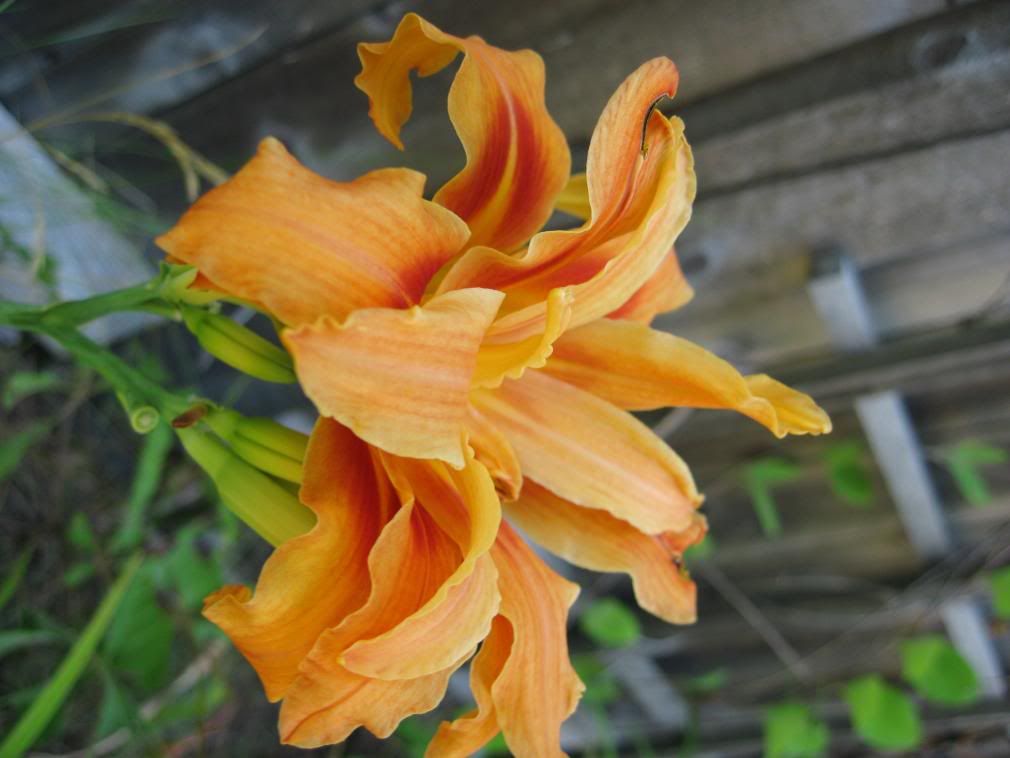 Coneflower 'Polar Giant'....
...the only two surviving carnivorous plants out in the screen house for the summer and looking happy...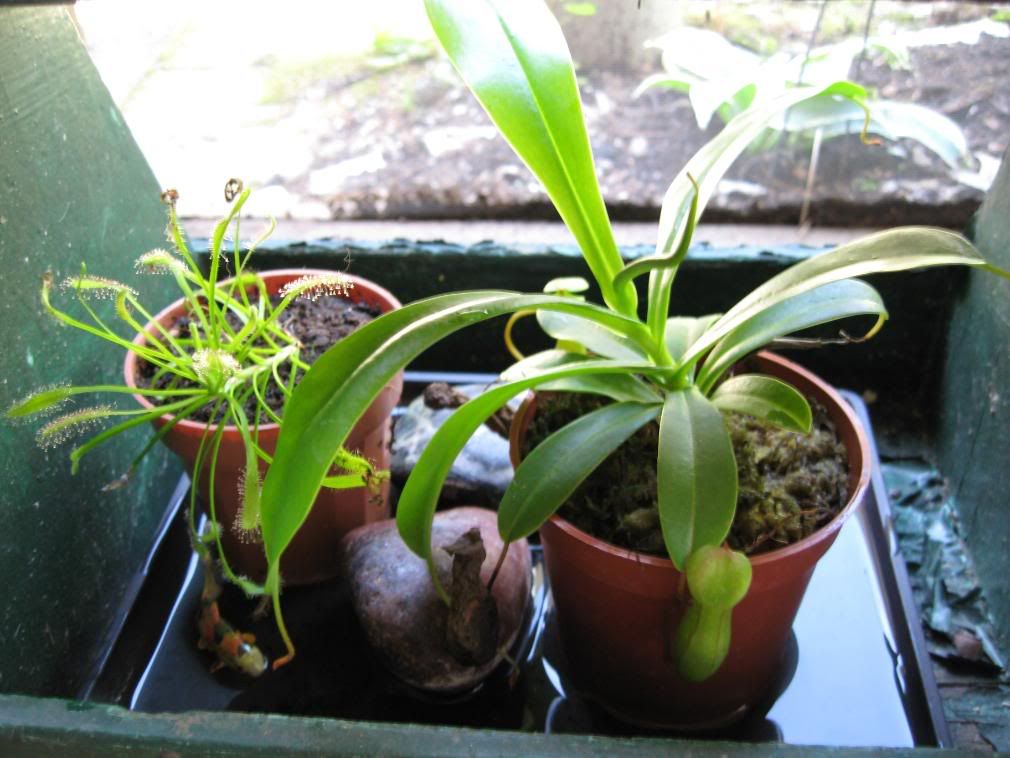 ....although my Norfolk Island pine is happy
not
to be outside! After the hissy-fit it threw
last year
I decided to leave it in for the summer. I open these windows when I can to provide a cross-draft and keep the trunk sturdy, without stressing the thing into dropping more branches like before. So far so good...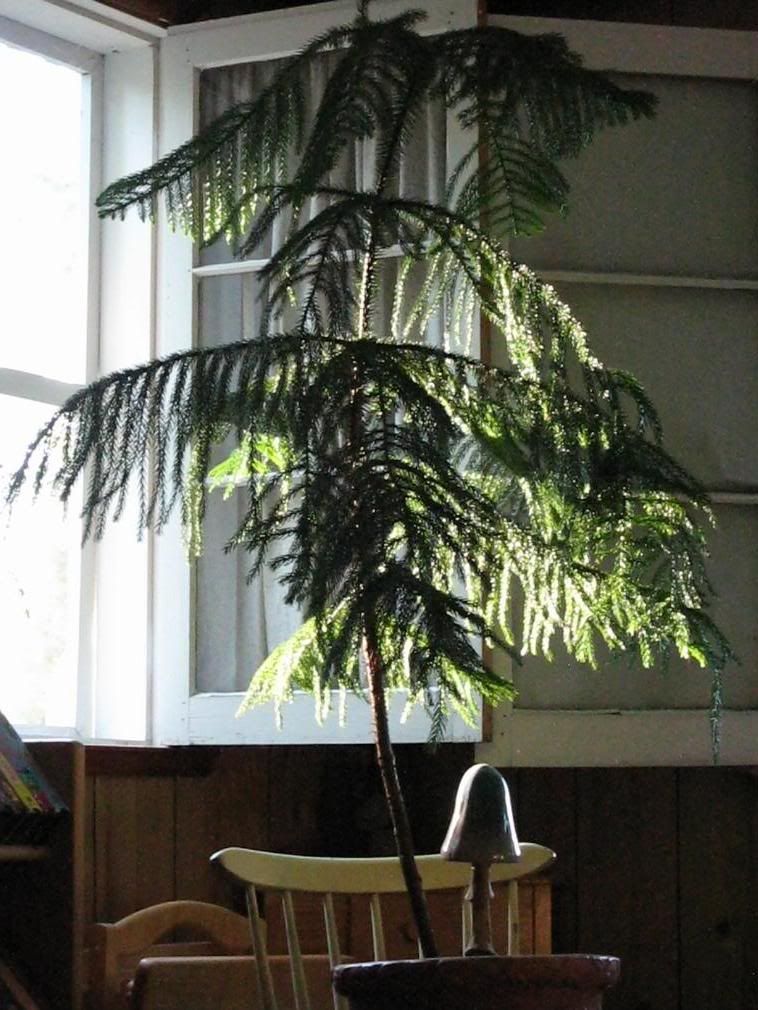 ...and last but not least, this tiny tomato prepares to jettison its' bloom...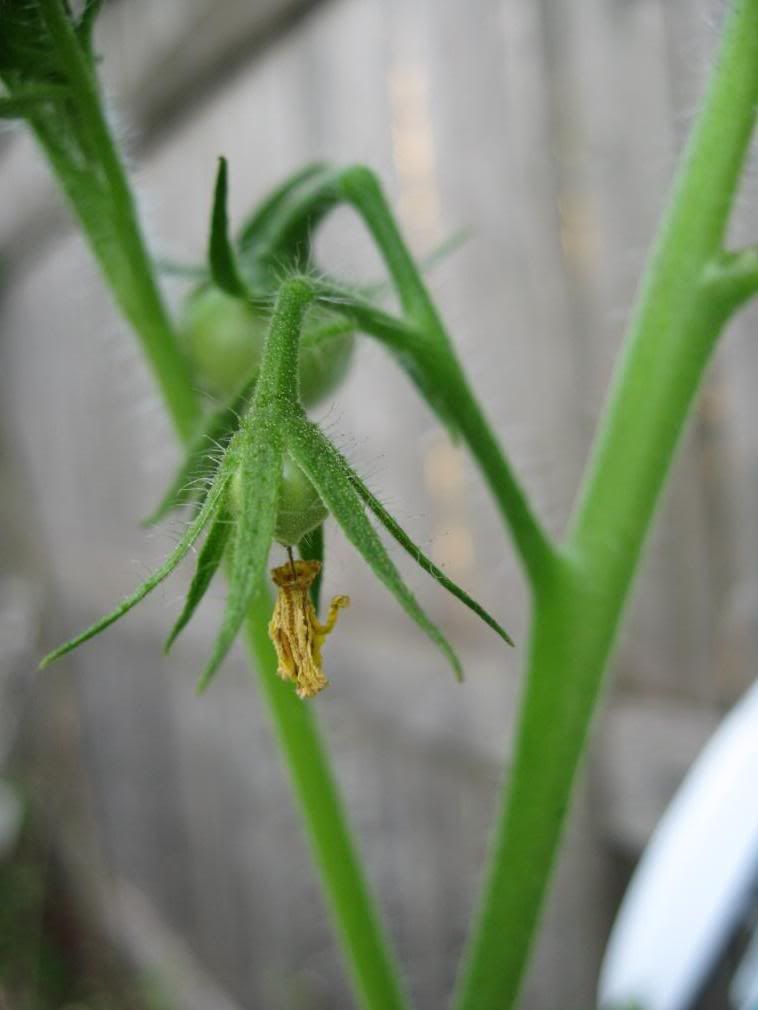 ...as I jettison another Bloom Day. For more exciting Bloom Day action, see our founder Carol at
May Dreams Gardens
. Happy Bloom Day!