Cactus garden reeee-mix!
Here's what I started with...a weedy mess! And where are the cacti? The one lone prickly pear I used to have in here rotted-bummer! There's even a tall sedum, some groundcover sedum, a small conifer, and a yucca in there
somewhere
, but it's mostly grass and weeds. But after some hard work...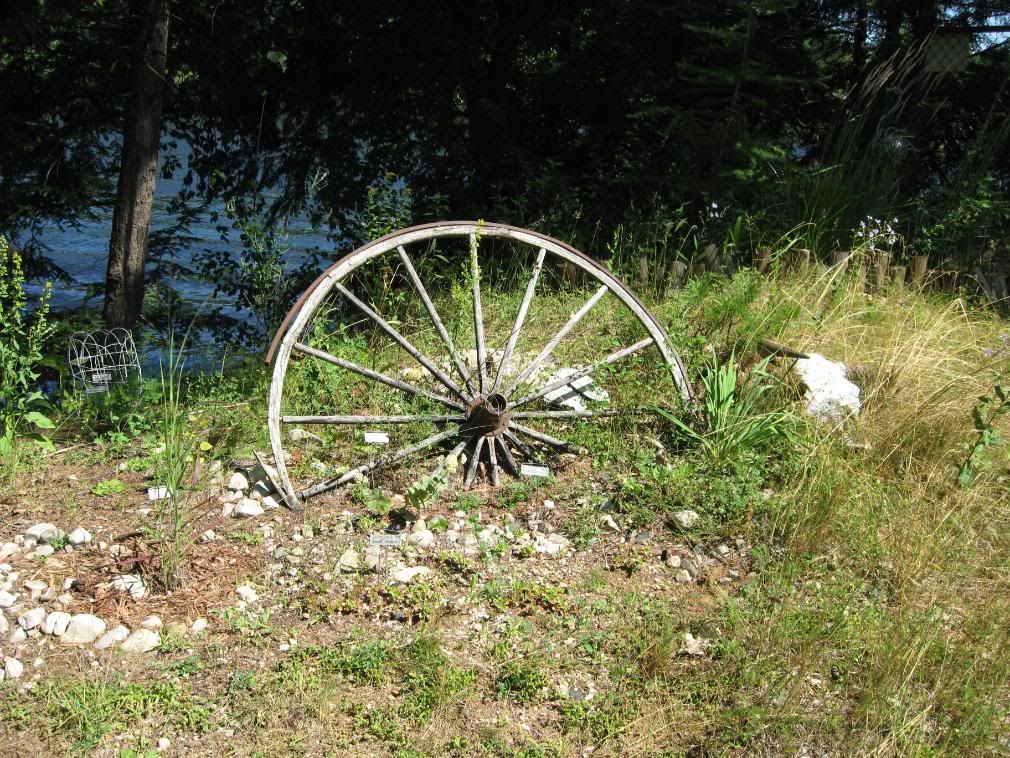 .... here's the end result! It's kinda hard to tell in this picture, but along with 'Dragon's Blood' sedum and hen and chicks planted randomly throughout, there's 'Blue Dune' Lyme grass in the back, 'Golden Sword' yucca, 'Hab Grey' sedum, "Shenandoah' switch grass, mugo pine, and a stolen prickly pear pad! Here's how it went down...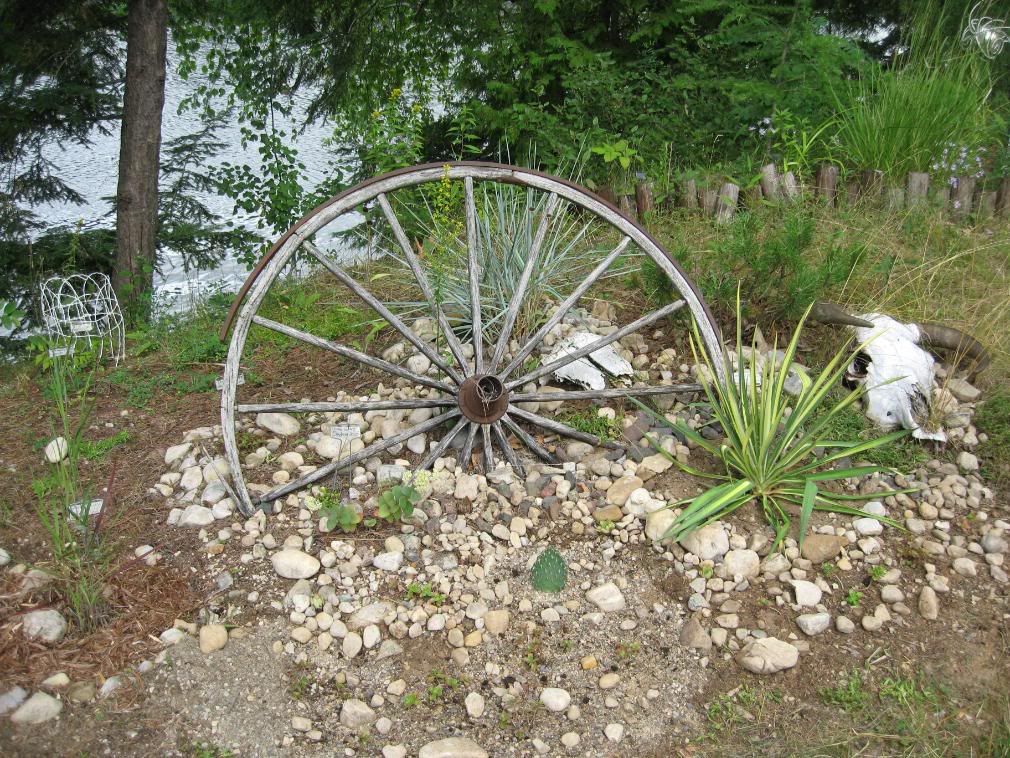 ...first the 'Blue Dune' grass, and boy is it ever pot-bound!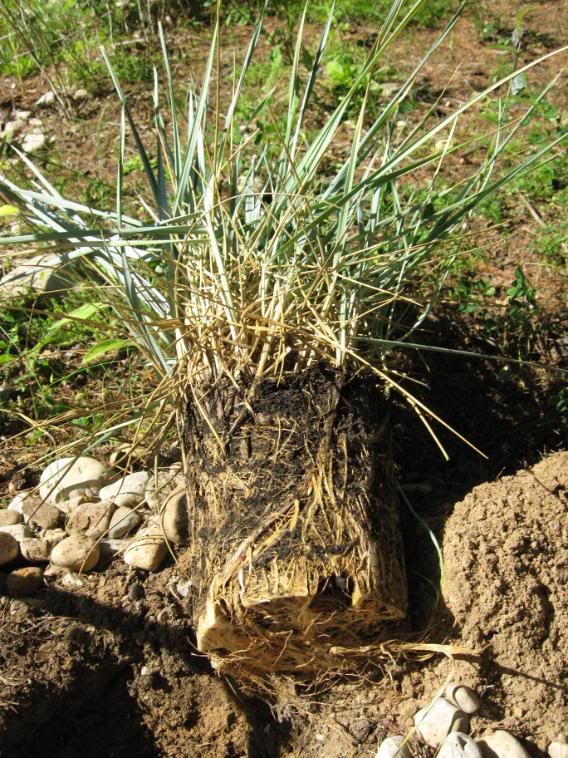 So I get out the
Chef Tony knife
(I have part of an extra set that I use in the garden), and quartered the root ball. I have to say, those knives are
super
sharp! I have to be very careful not to cut myself...which I
did
by barely grazing my ankle!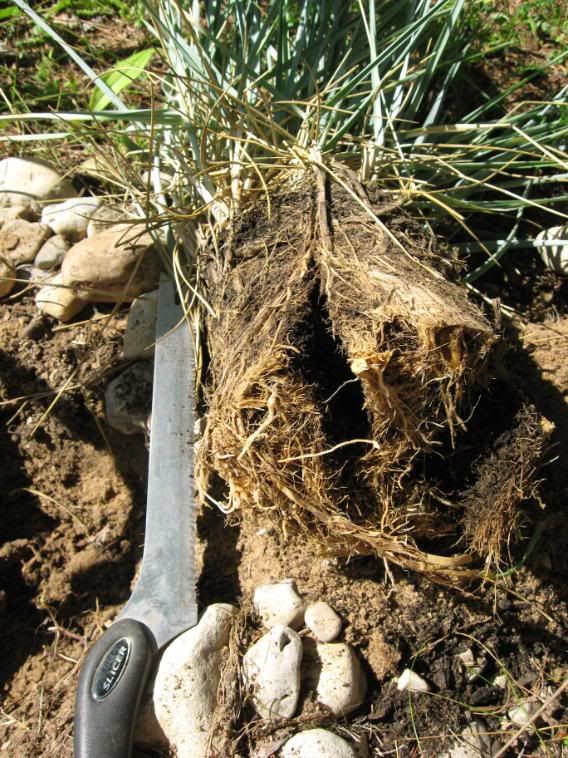 Next the yucca, and it's pretty pot-bound as well. Since there are these node-looking thingys, I'm not gonna use the Chef Tony this time...
...I'll just tease them out somewhat.
After those two are in the ground, I'll dig the new cactus spot to be a "no-rot zone". My Cactus Guru says I should dig it out at
least
6 inches deep....done! Then I use the "
guru
" cactus soil mix...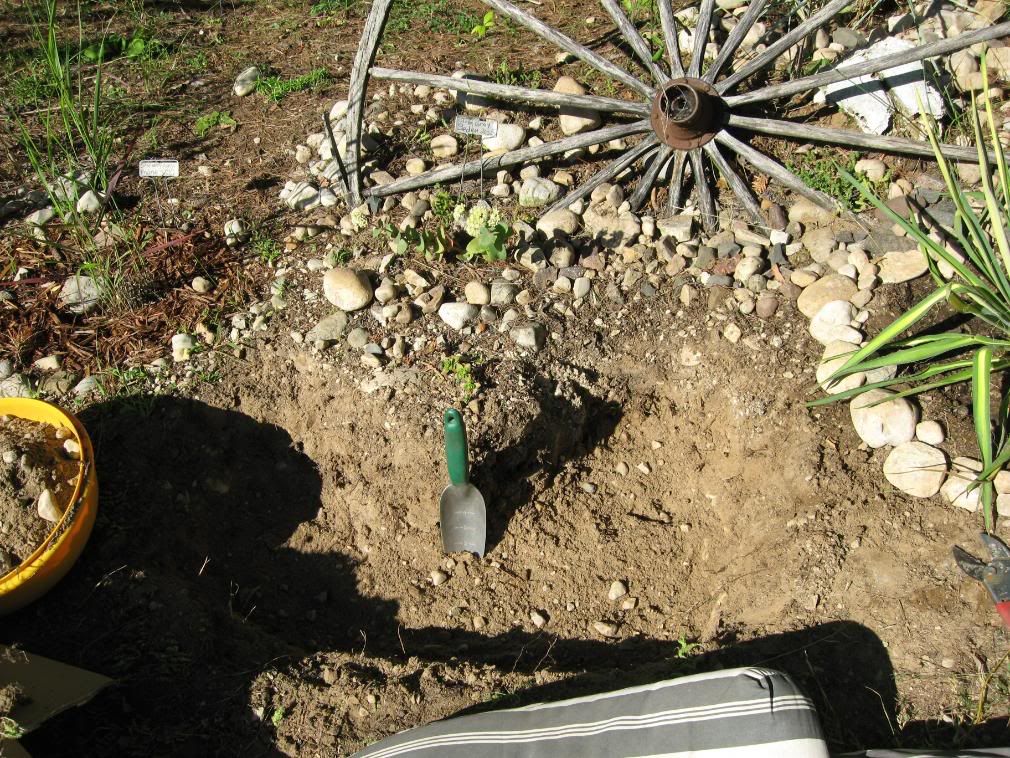 .....and it's looking more coarse and well-draining than the surrounding sand-excellent!
There! Looks reasonably natural, especially with all the surrounding rocks. Now for the cactus...
...here he is, the
"contraban"
prickly pear pad. Wow, look at the nice roots! I hope he enjoys this spot as much as he liked the pot where he was forming those!
I added a few more hen and chicks as well as more rocks...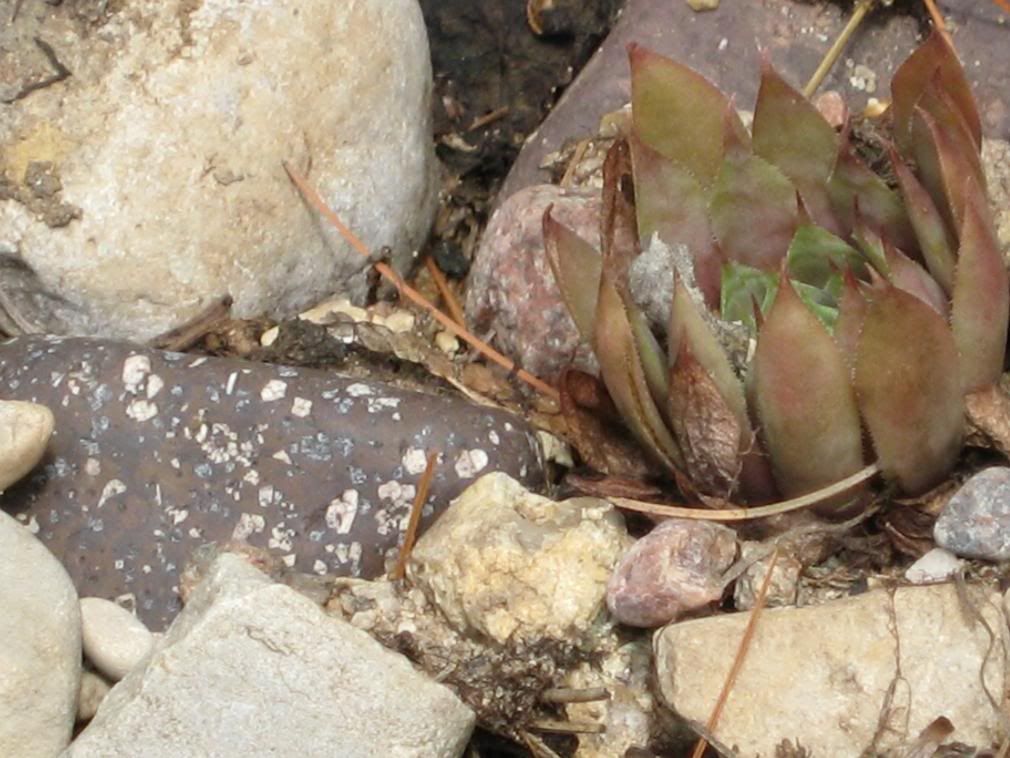 ....some weeding to do also, but I like the way this grass looks growing out of the cow's nose, so I'll keep it...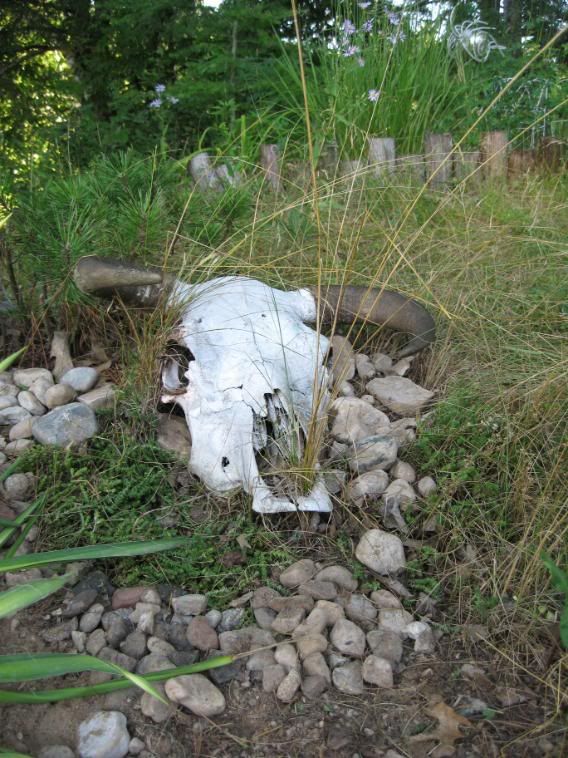 ....as well as these volunteer asters. Kind of a nice contrast next to the dead animal bones, eh? Yea this skull is the real deal, I got it from a local rancher for free...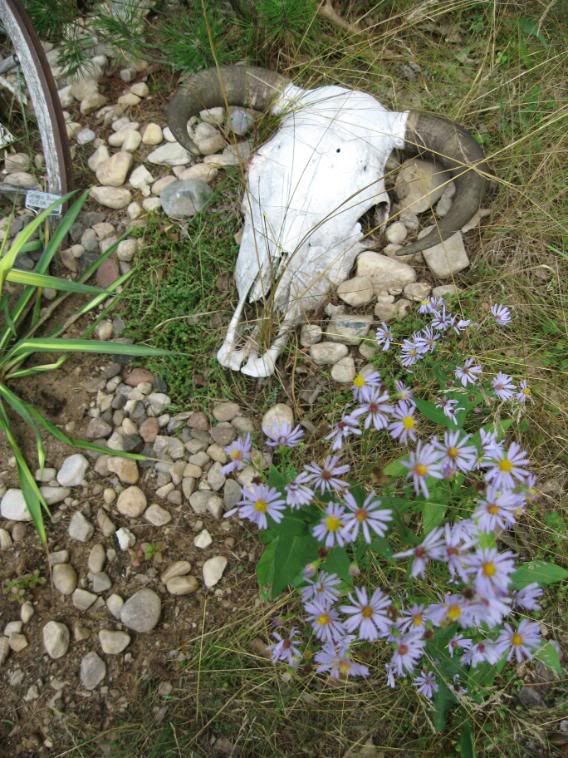 ....with the "butter" (flesh) still on it! I actually put this in a large container and covered it with sand for a few years to wait for it to "clean up", and had another one with less "goo" on it to display initially.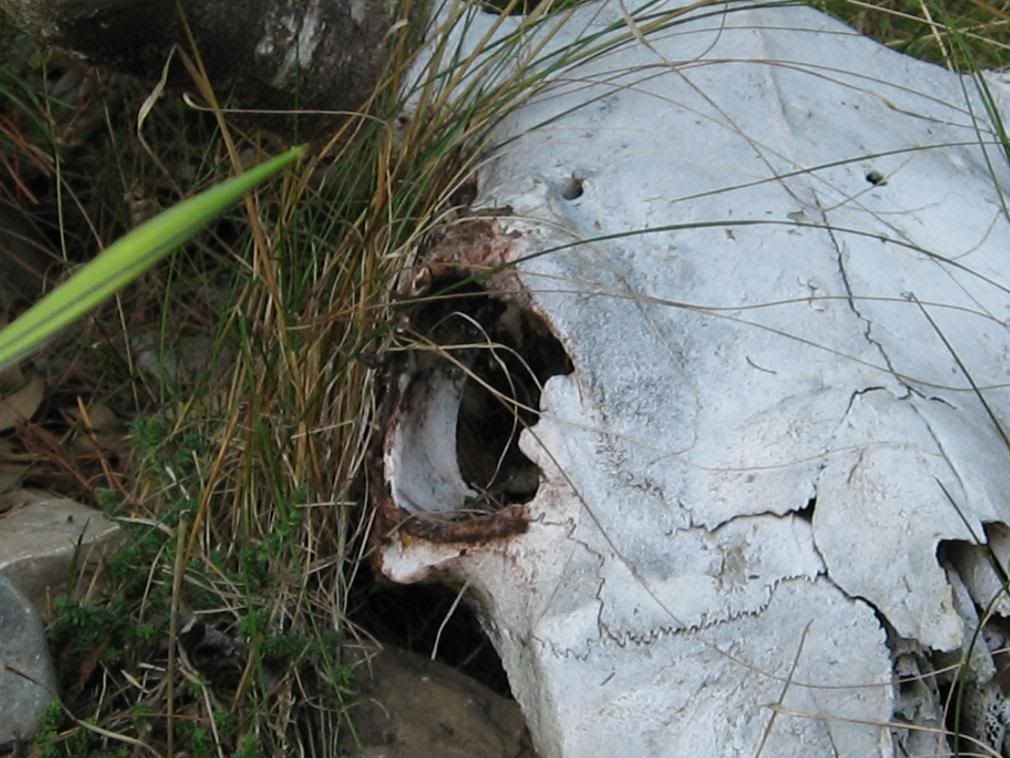 As I put the 'Dragon's Blood' sedum back in, I decided to put a few in front of the yucca into "native" soil and amend the holes with manure for a "richer" mix...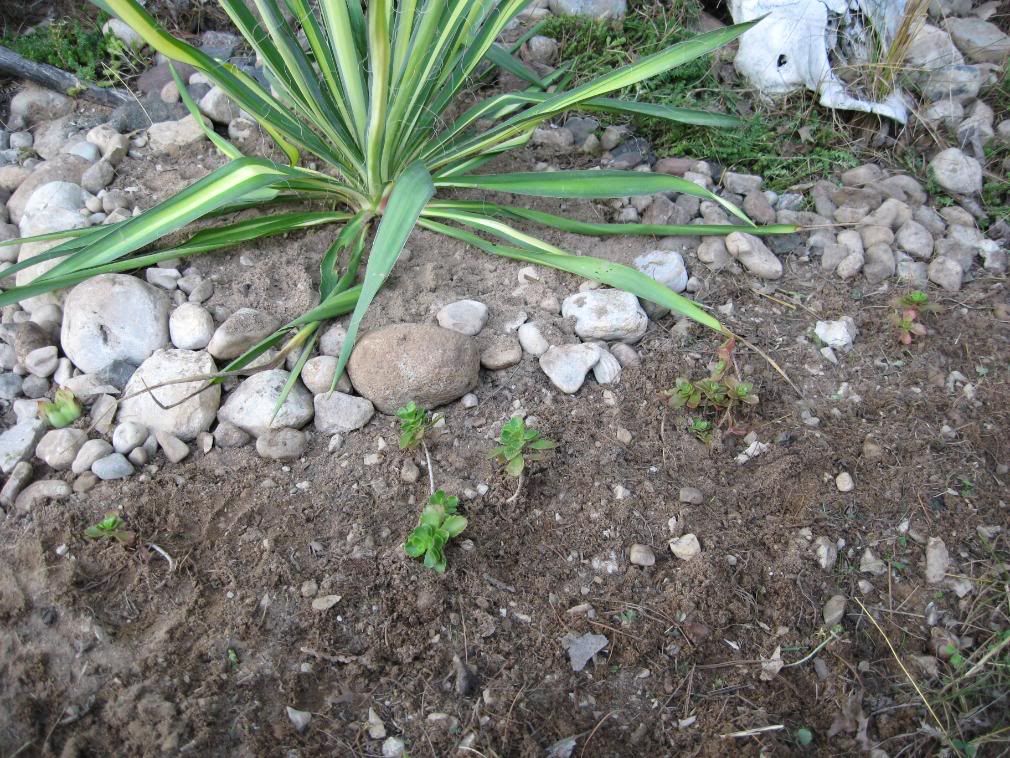 ...and some are planted in the "cactus mix". We'll take an informal poll later and see who's happier! :)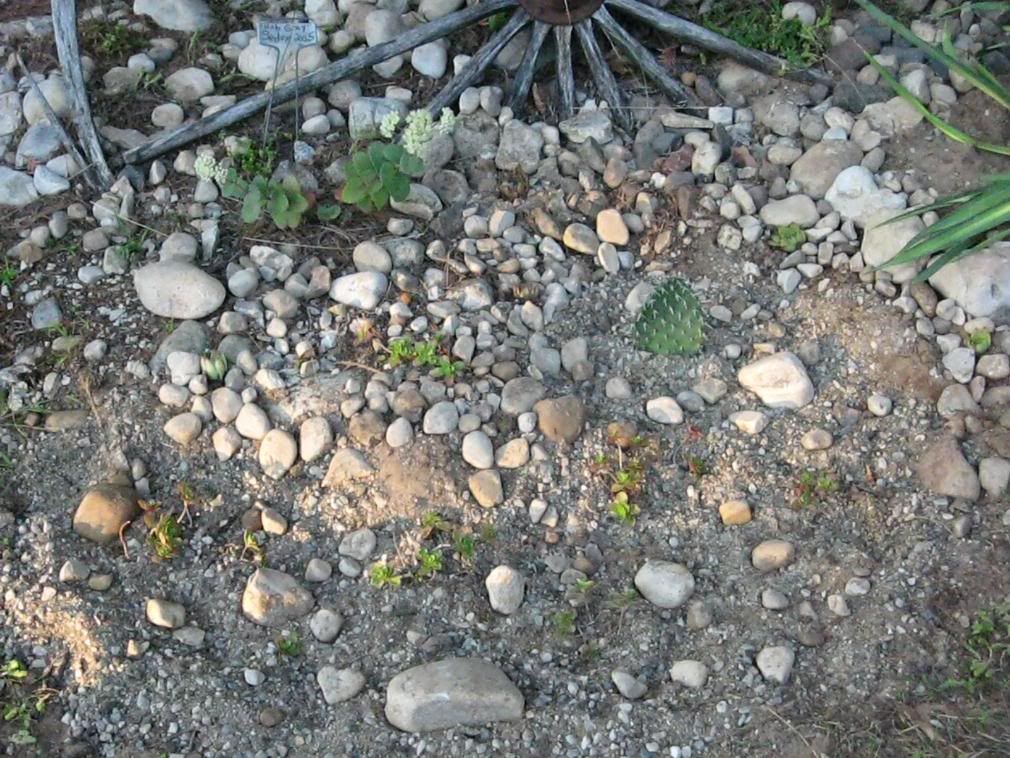 Eventually I want to get more cacti that are hardy up here in zone 4 (there are actually several!), but for now I want to see how
this
goes. I'm thinking I'll put a "cage" over the prickly pear to minimize debris buildup from overhead trees this fall and reduce the chances for rot, but that may not be necessary with the right soil. We'll see...wish me luck!