Fun with houseplants...
because eveything outdoors is under snow! When I had to bring in my new ceramic mushrooms for the winter, I wasn't sure where I wanted to put them. The caps are spring-attached to the stems, so I didn't want them to get bent up...
.....I think they decorate these bigger houseplants just fine!
Christmas/Thanksgiving cacti have been showing off for weeks...
....especially this one, called "Sunset"....
....is it so named for this nice yellow, orange, and pink coloration?....
.....absolutely!
Which brings me to this minor quandry: why are the leaves of the rooted cutting (bottom) shaped differently and a different shade than the mother plant (top, diagonally)?
Not only that, but why are the flowers different shades? (Mother plant left, cutting blossom right). Is it a maturity thing?
Ah, but this dark red is consistent, from mother plant to rooted cutting...strange.
Wow,
schlefflera
had a good summer in the screen house! Better re-pot that next spring for sure!
This plant,
spathiphyllum
, not so much! Oops...too much late-season dry out and exposure to fall temps...in fact, I was afraid it was a goner...
...but some trimming of dead stuff, water and prayer=resurrection!
This cactus dish got pretty sunburnt at first, even though it was just in afternoon sun for a couple hours a day in the screen house...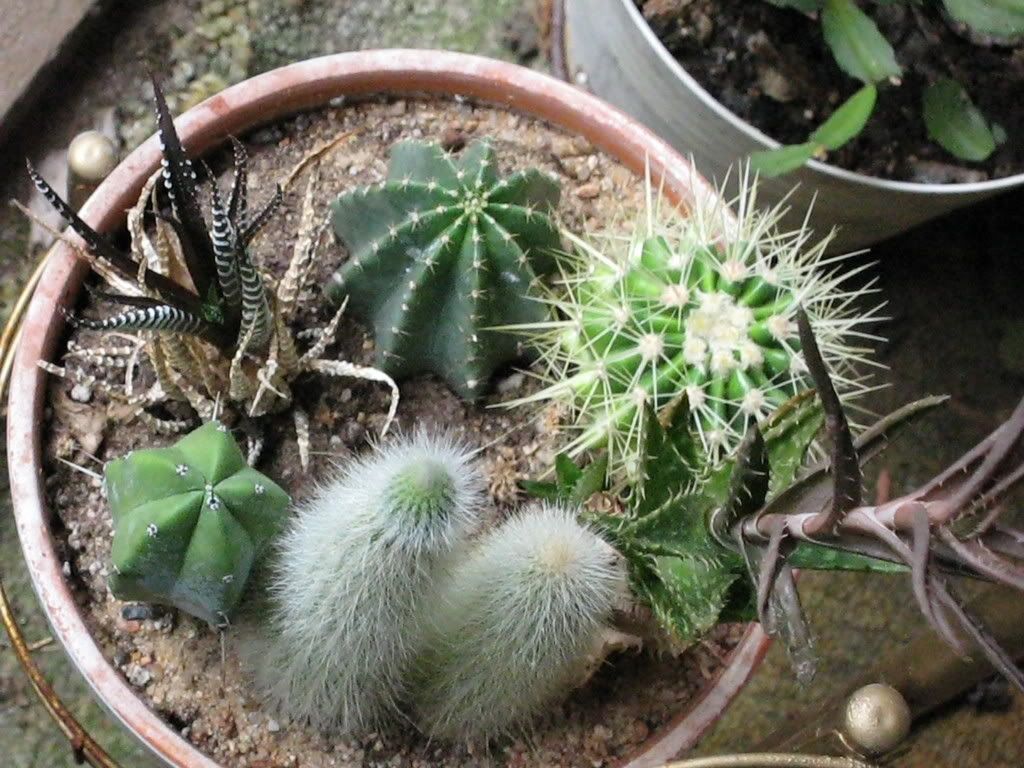 ....burnt
and
somewhat crispy....
......I mean, that even looks painful to
me
.....but then they all seemed to get over it for the bulk of the summer season...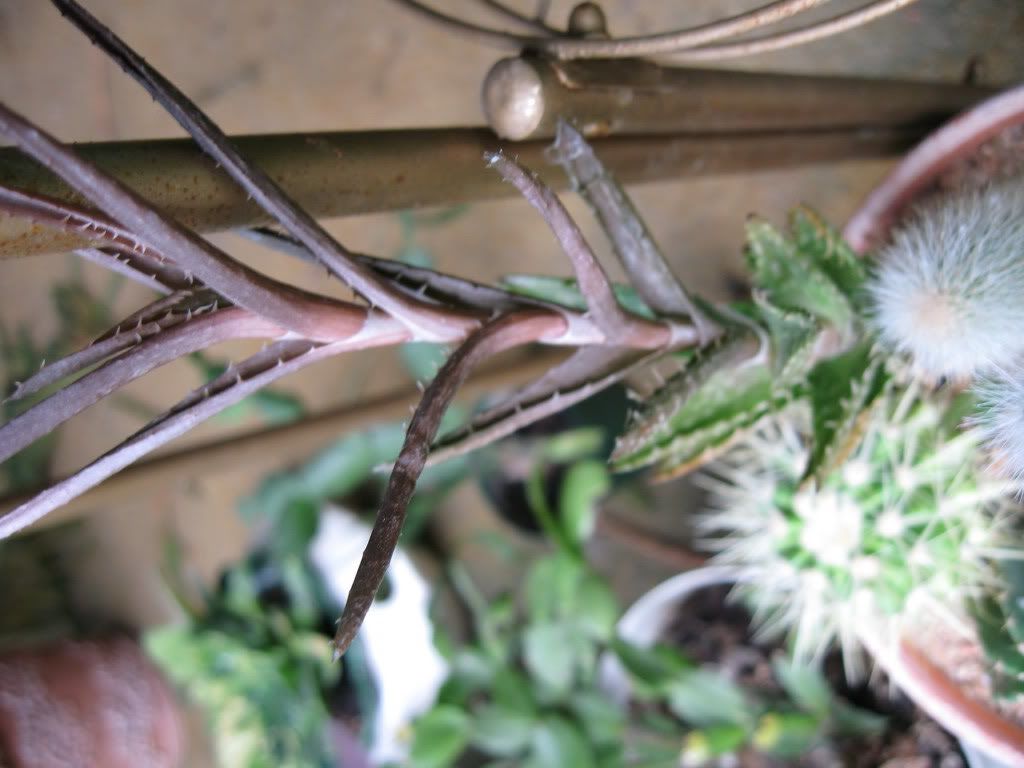 .....and now look at all this new growth!
Okay, if you can't tell the difference too well, then let me draw some arrows and such (in red, which looked a lot brighter in paint than it does here)...
...you can see the amount of new growth on these fuzzy dudes the most.....
.....so what's the lesson here? You need to be "cruel to be kind" to get good growth from cacti? (Whip me, beat me, make me write bad checks? ;-) Do they go into some sort of "survival mode" when stressed, resulting in a panicky growth spurt? Is this just normal, and I'm spazzing for nothing? Heh...guess I have all winter to research this and any other silly questions I might come up with!